Презентація на тему «Football» (варіант 2)
Презентація на тему «Football» (варіант 2)
---
---
---
Слайд #1
---
Football
Suharskaya Olya 10-B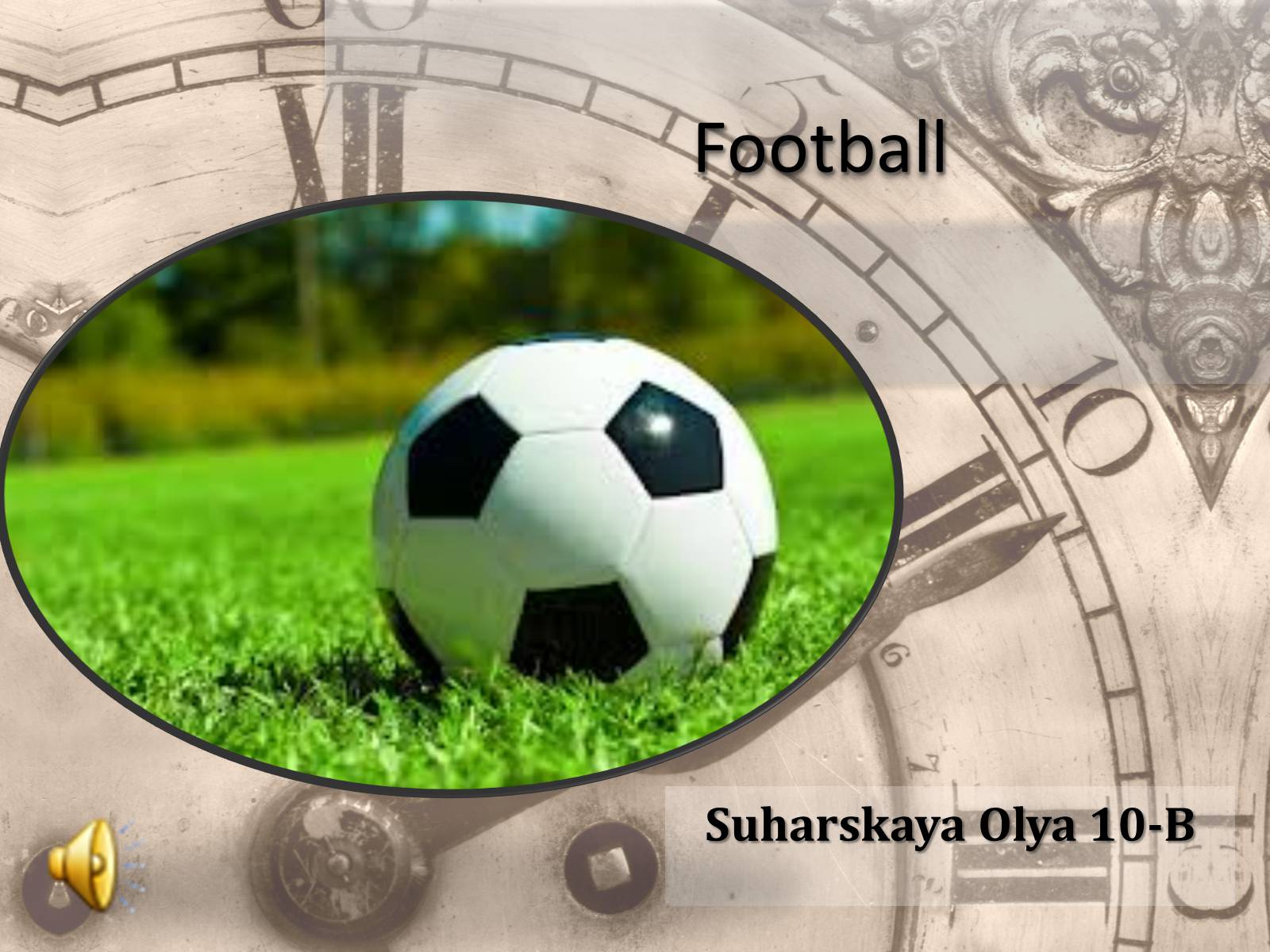 ---
Слайд #2
---
Association football, commonly known as football or soccer, is a sport played between two teams of eleven players with a spherical ball. It is played by 250 million players in over 200 countries, making it the world's most popular sport. The game is played on a rectangular field with a goal at each end. The object of the game is to score by using any part of the body besides the arms and hands to get the football into the opposing goal.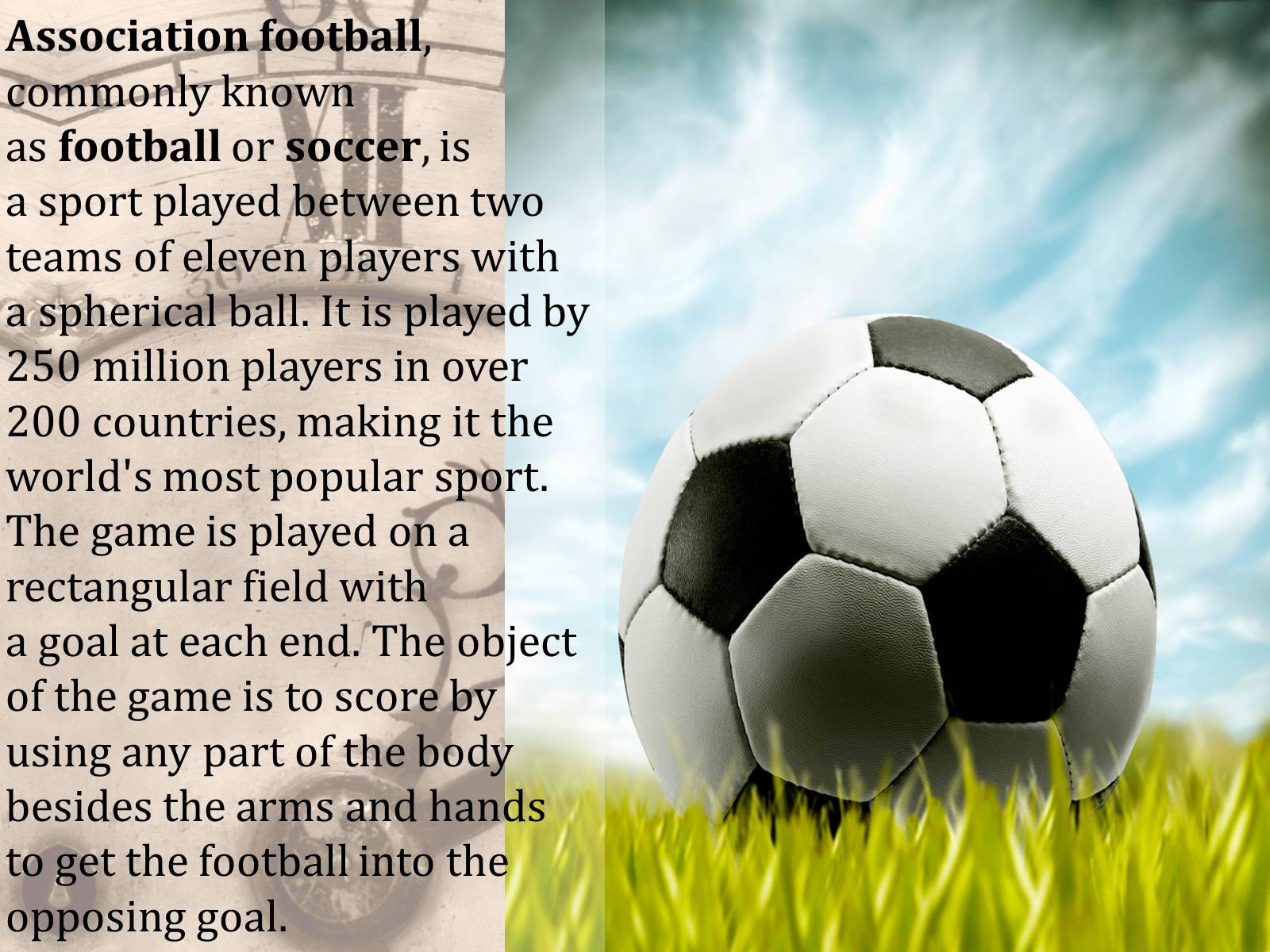 ---
Слайд #3
---
The goalkeepers are the only players allowed to touch the ball with their hands or arms while it is in play and then only in their penalty area. Outfield players mostly use their feet to strike or pass the ball, but may use their head or torso to strike the ball instead. The team that scores the most goals by the end of the match wins. If the score is tied at the end of the game, either a draw is declared or the game goes into extra time and/or a penalty shootout depending on the format of the competition. The Laws of the Game were originally Association football is governed internationally by the International Federation of Association Football  which organises a World Cup every four years.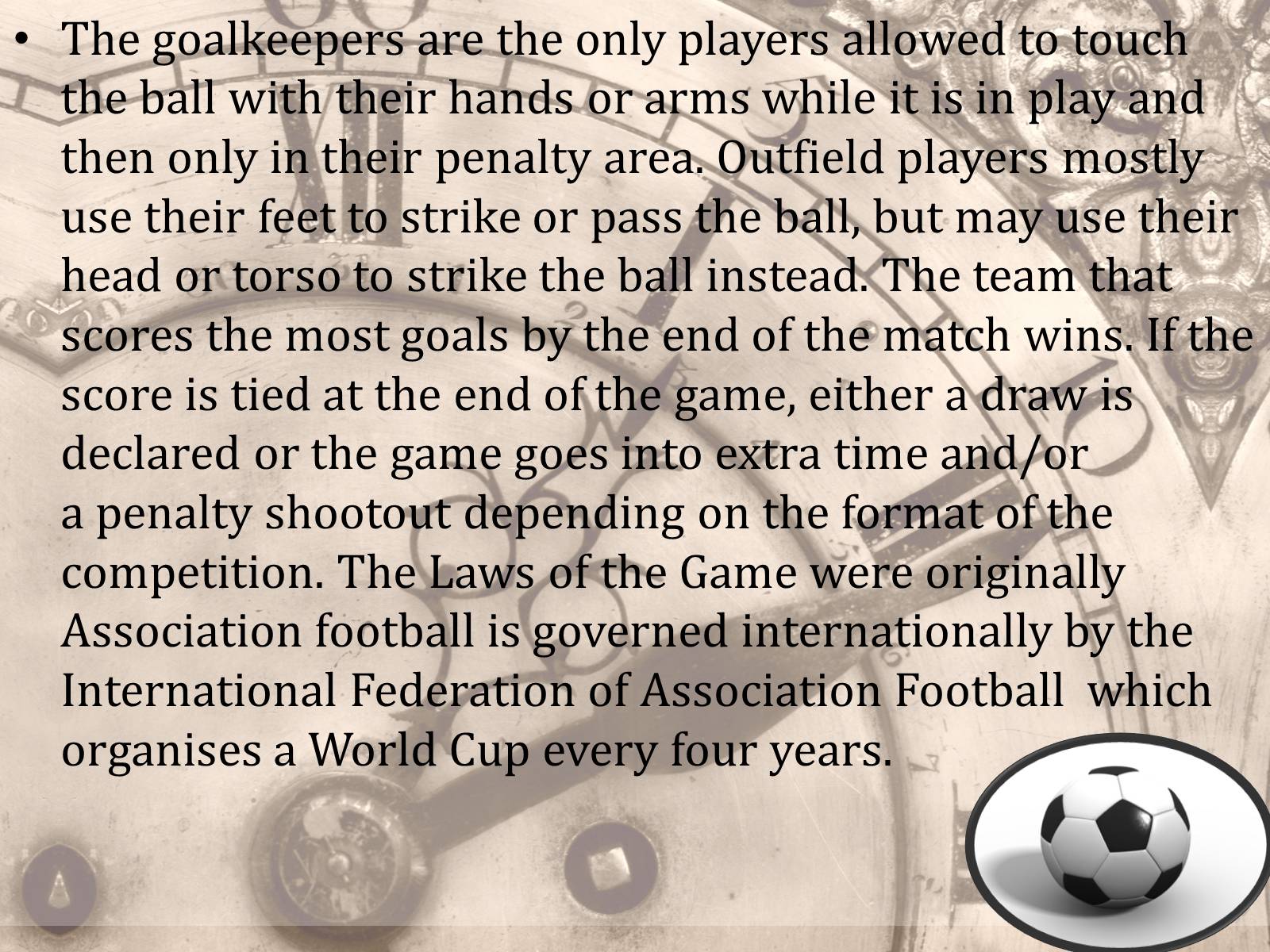 ---
Слайд #4
---
Each team consists of a maximum of eleven players one of whom must be the goalkeeper. Competition rules may state a minimum number of players-7 Goalkeepers are the only players allowed to play the ball with their hands or arms, provided they do so within the penalty area in front of their own goal. Though there are a variety of positions in which the outfield (non-goalkeeper) players are strategically placed by a coach, these positions are not defined or required by the Laws.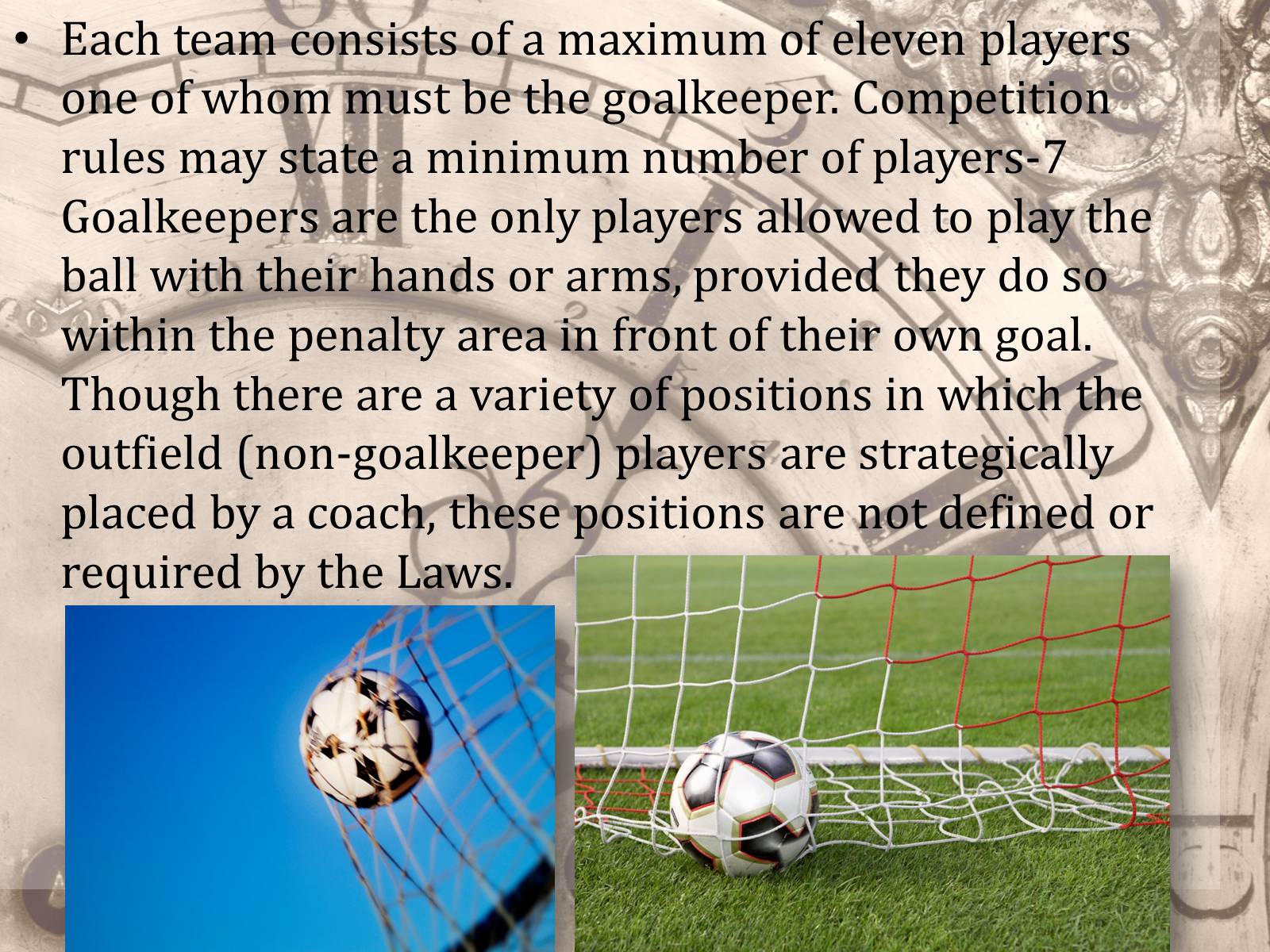 ---
Слайд #5
---
Famous footballer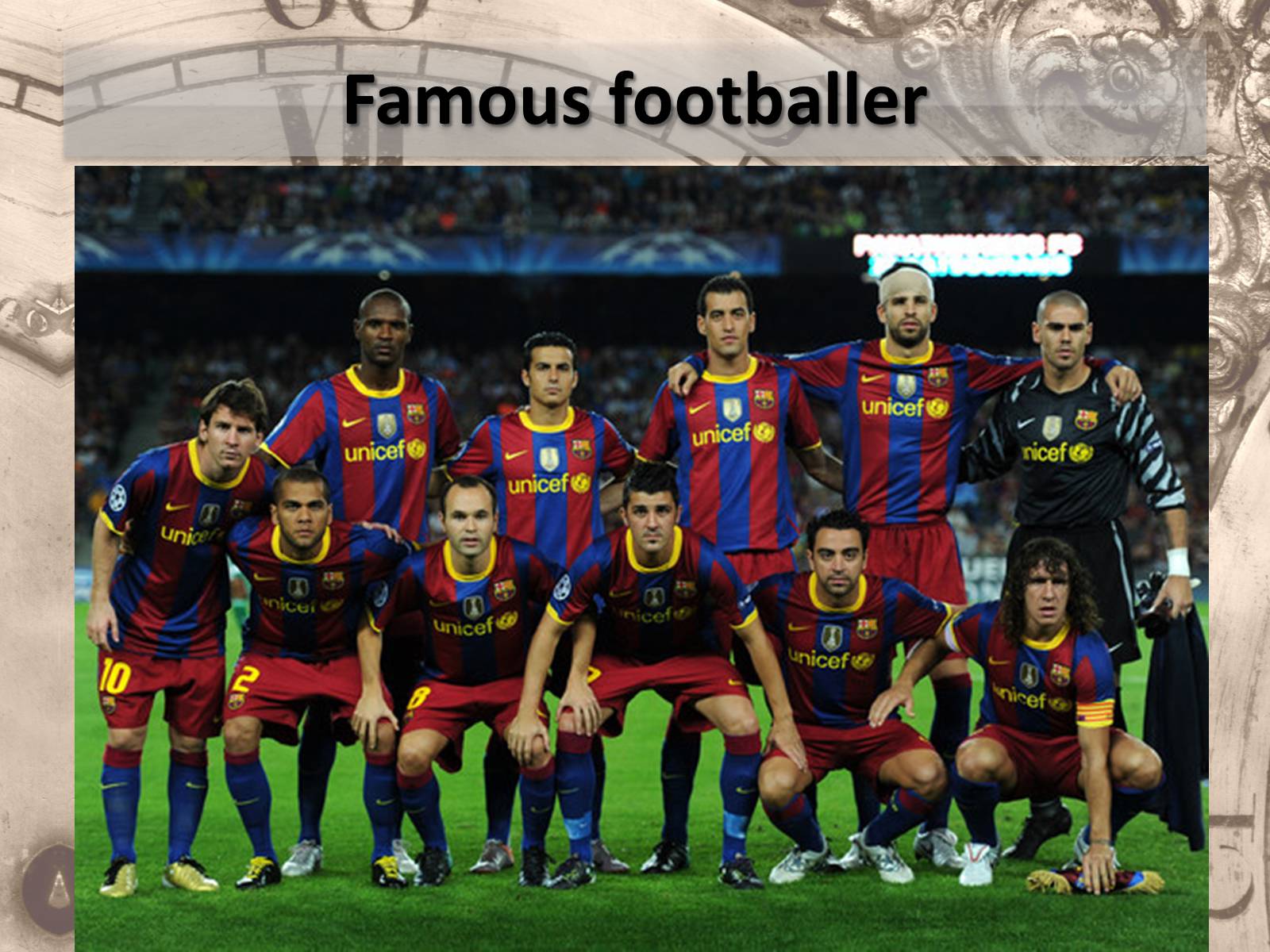 ---
Слайд #6
---
David Beckham
David Robert Joseph Beckham  is an English former footballer. He has played for Manchester United, Preston North End, Real Madrid, Milan, Los Angeles Galaxy, Paris Saint-Germain, and the England national team for which he holds the appearance record for an outfield player.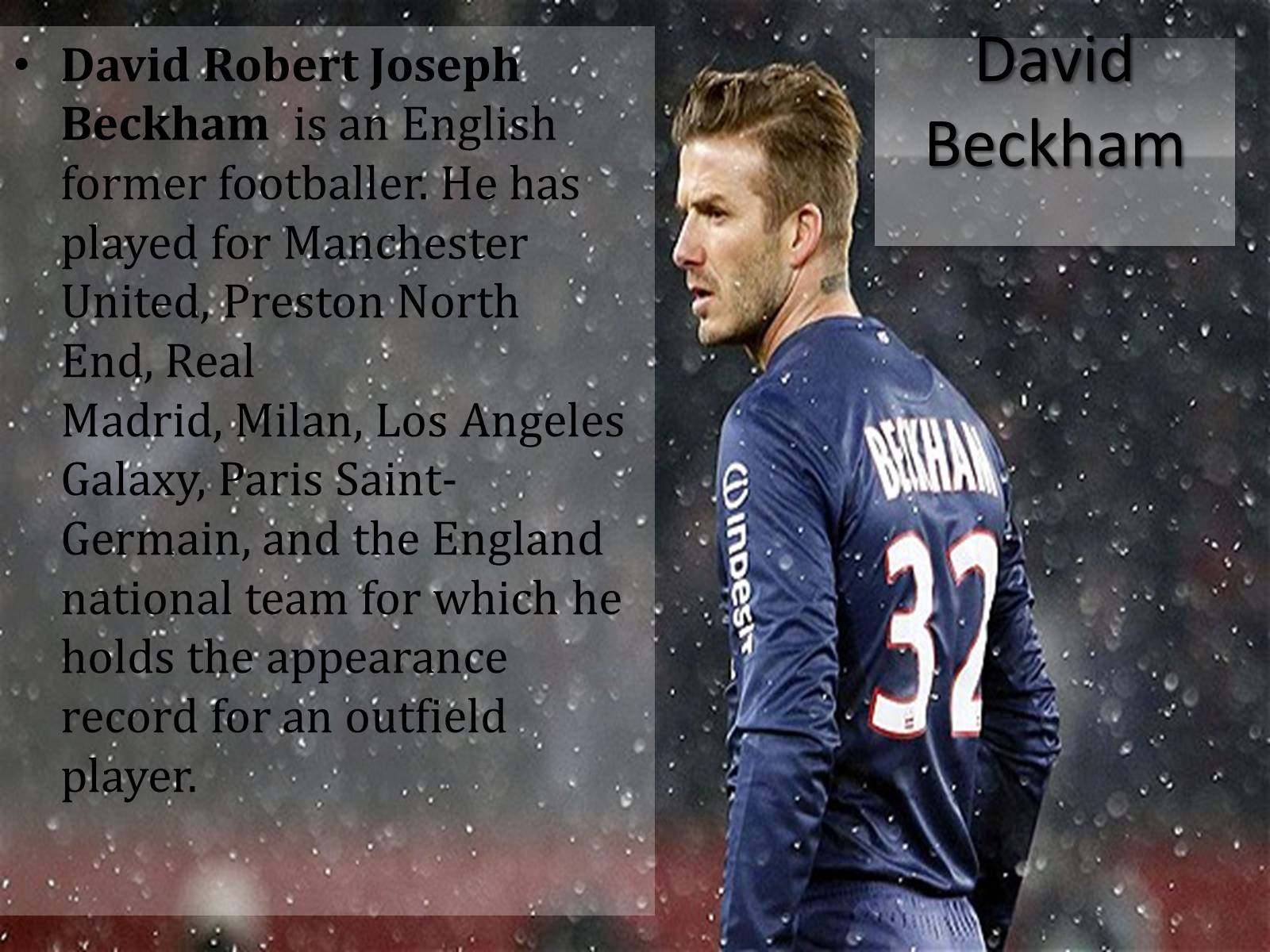 ---
Слайд #7
---
 He was the first English player to win league titles in four countries (which were England, Spain, the United States and France).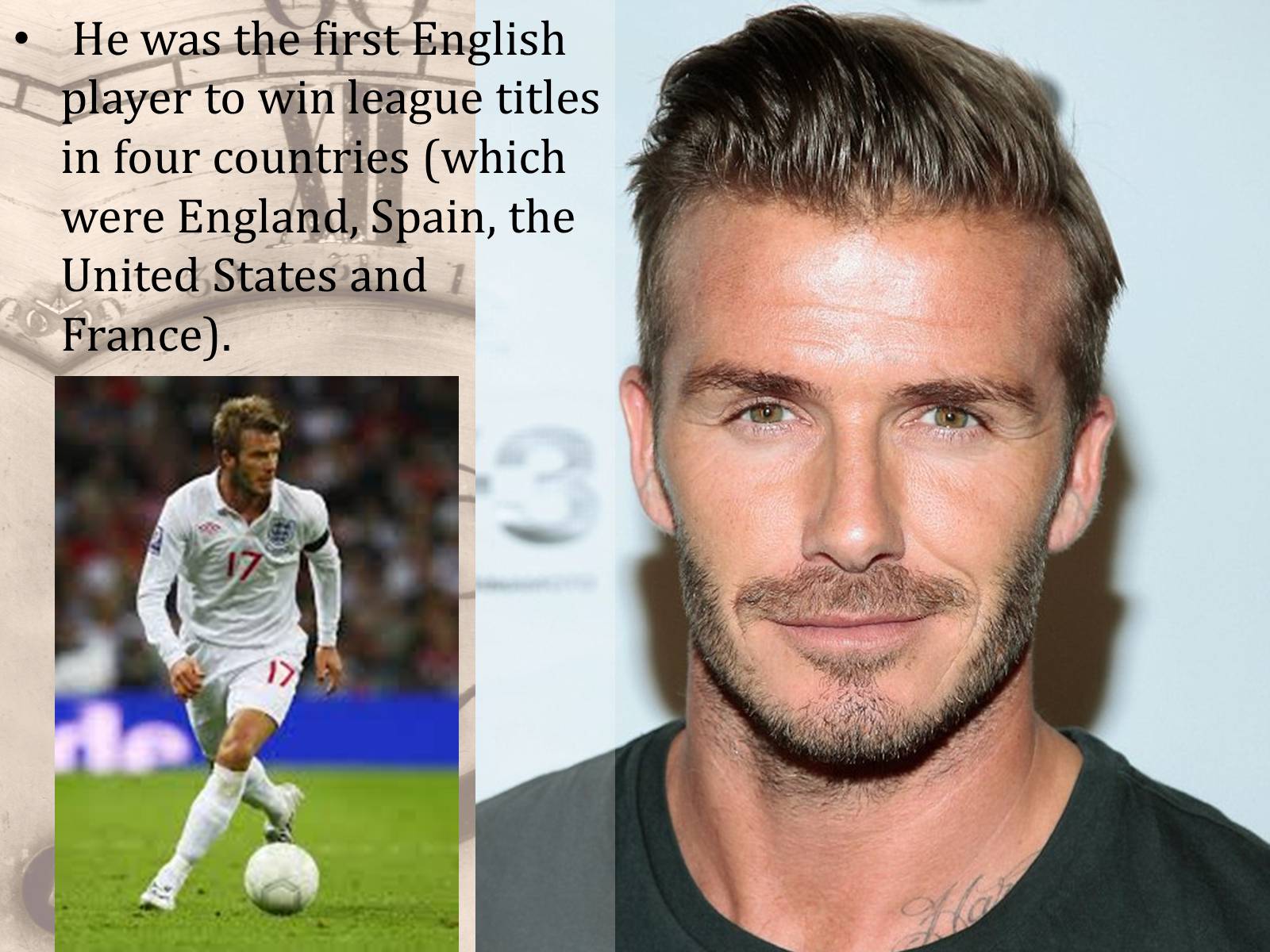 ---
Слайд #8
---
He announced his intention to retire at the end of the 2012–13 Ligue 1 season on 16 May 2013 and, on 18 May 2013, played his final game of his storied 20-year career.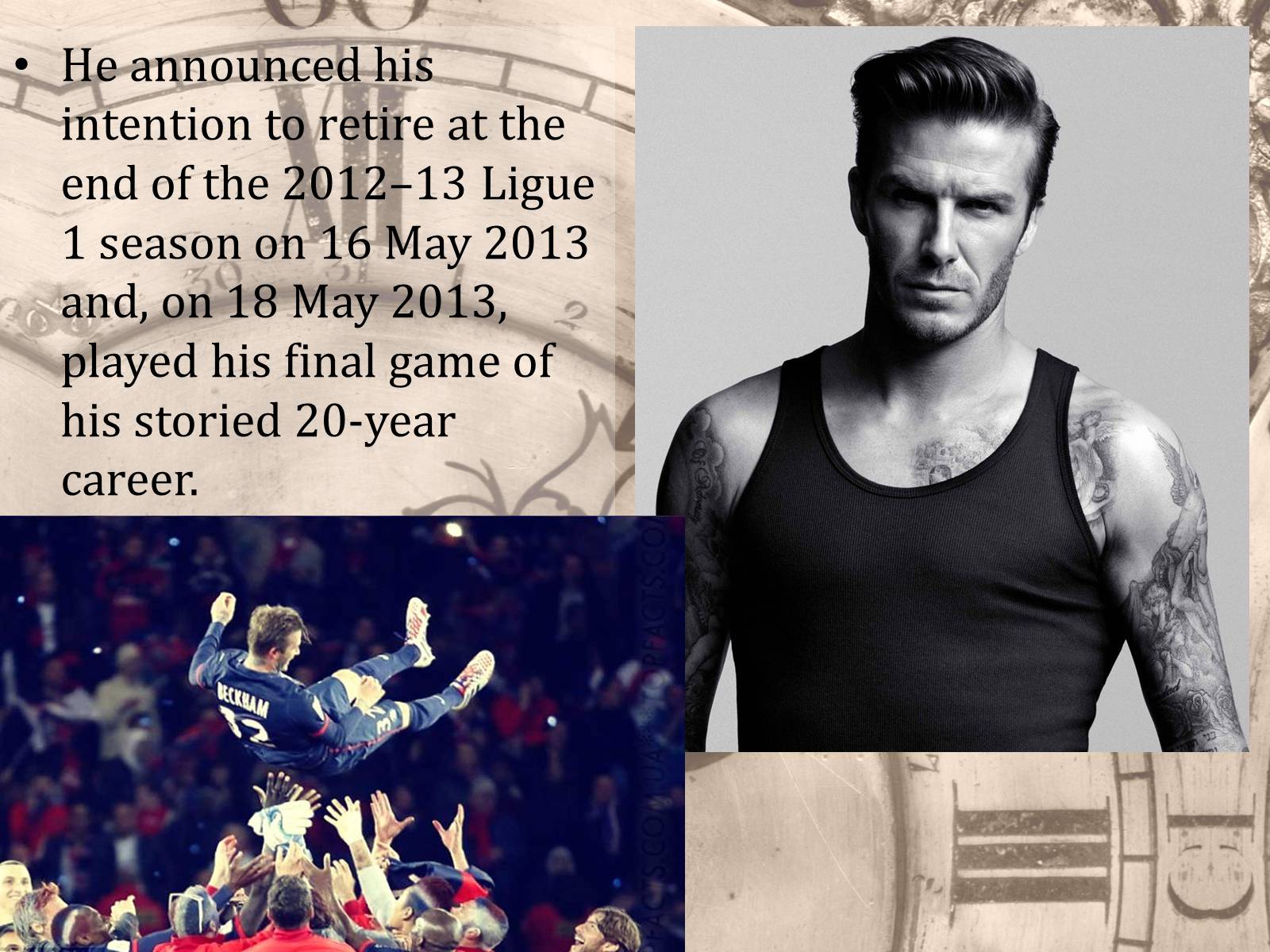 ---
Слайд #9
---
Lionel Messi
Lionel Andrés Messi is an Argentine footballer who plays as a forward for Spanish club FC Barcelona and the Argentina national team. He serves as the captain of his country's national football team.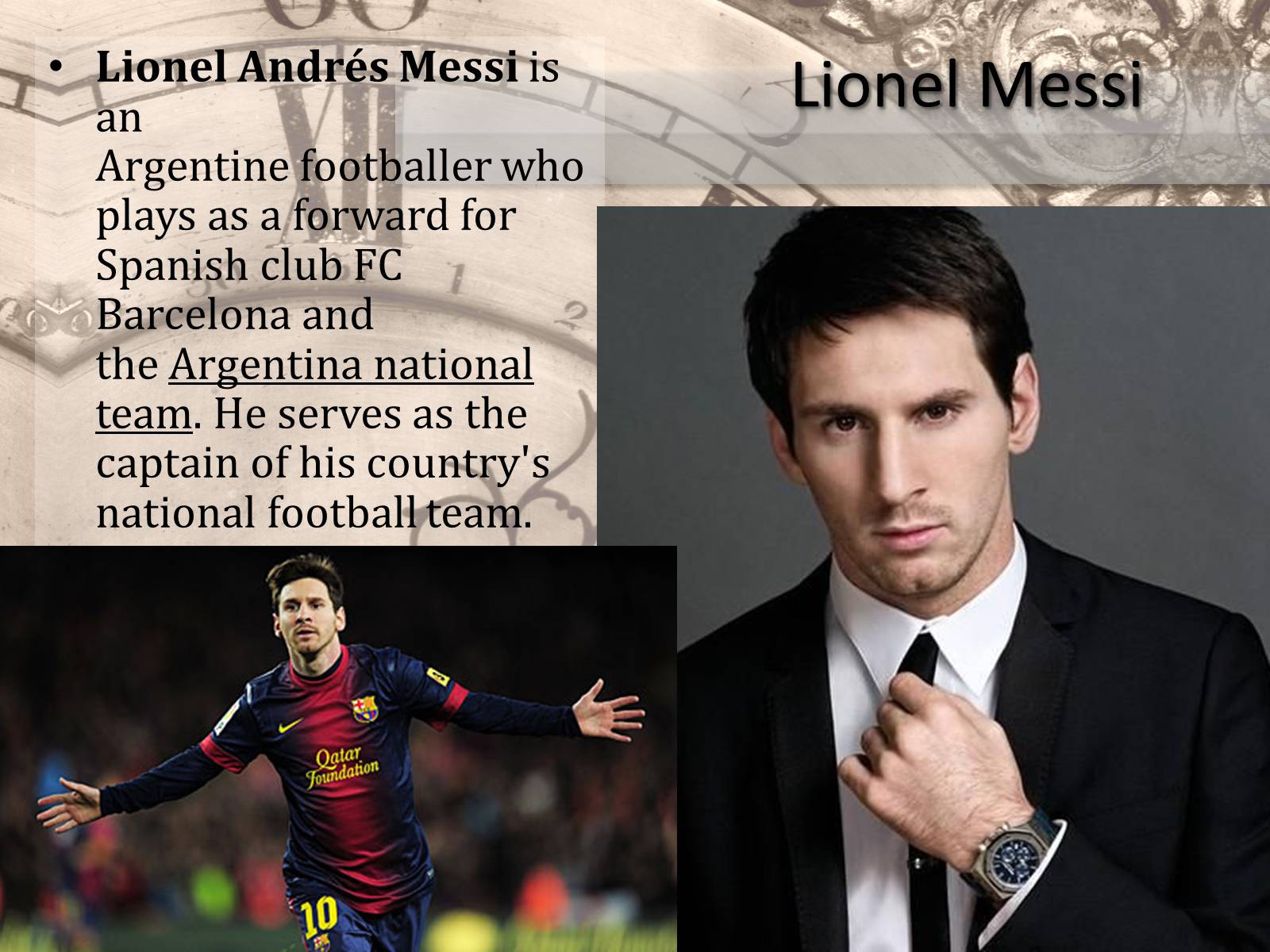 ---
Слайд #10
---
By the age of 21, Messi had received Ballon d'Or and FIFA World Player of the Year nominations. The following year, in 2009, he won his first Ballon d'Or and FIFA World Player of the Year awards. He followed this up by winning the inaugural FIFA Ballon d'Or in 2010, and then again in 2011 and 2012. He also won the 2010–11 UEFA Best Player in Europe Award. At the age of 24, Messi became Barcelona's all-time top scorer in all official club competitions. At age 25, Messi became the youngest player to score 200 La Liga goals.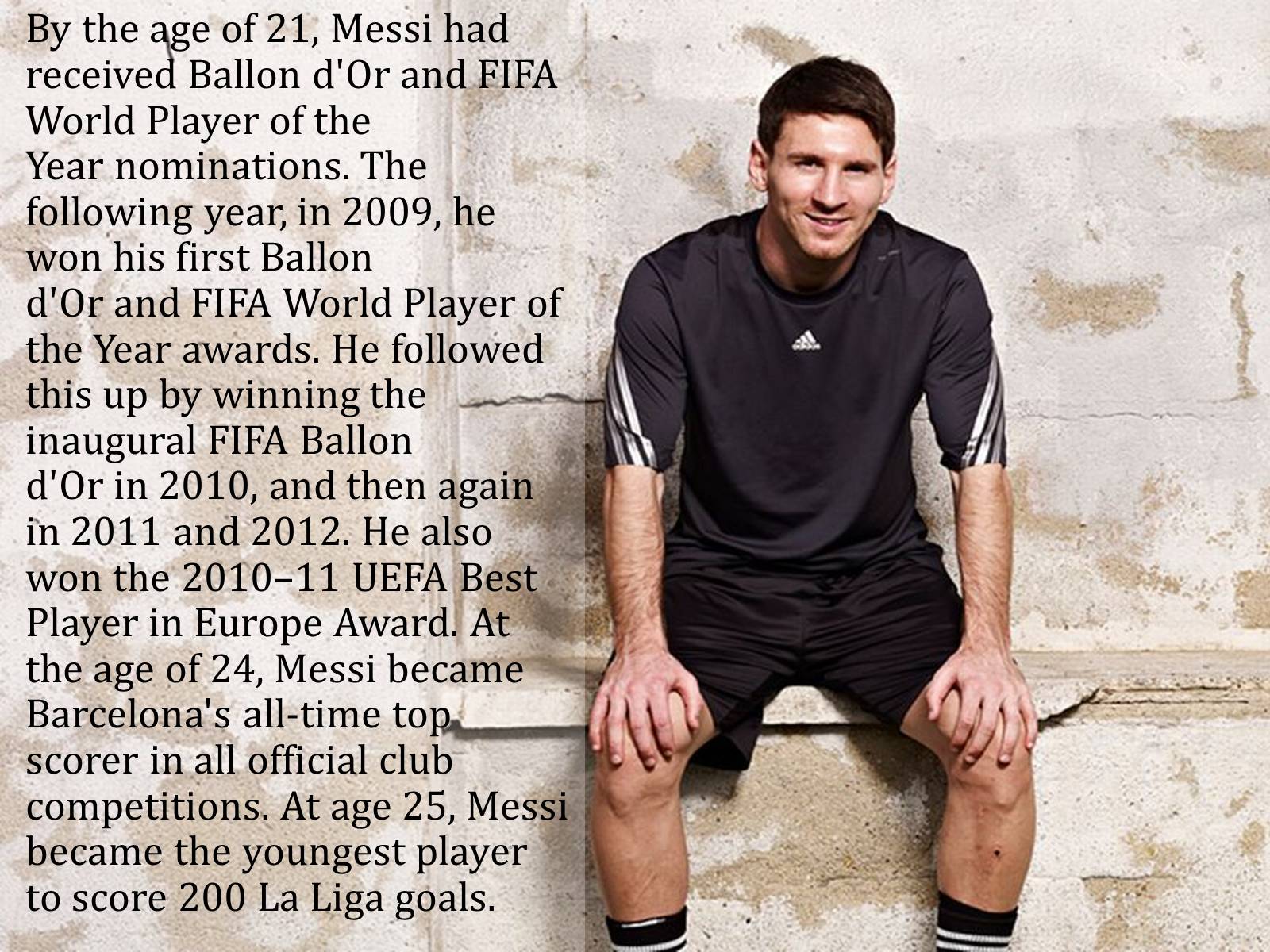 ---
Слайд #11
---
Cristiano Ronaldo
Cristiano Ronaldo dos Santos Aveiro known as Cristiano Ronaldo, is a Portuguese footballer who plays as a forward for Spanish club Real Madrid and captains the Portugal national team. He became the most expensive footballer in history when he moved from Manchester United to Real Madrid in 2009 in a transfer worth £80 million (€94 million/$132 million).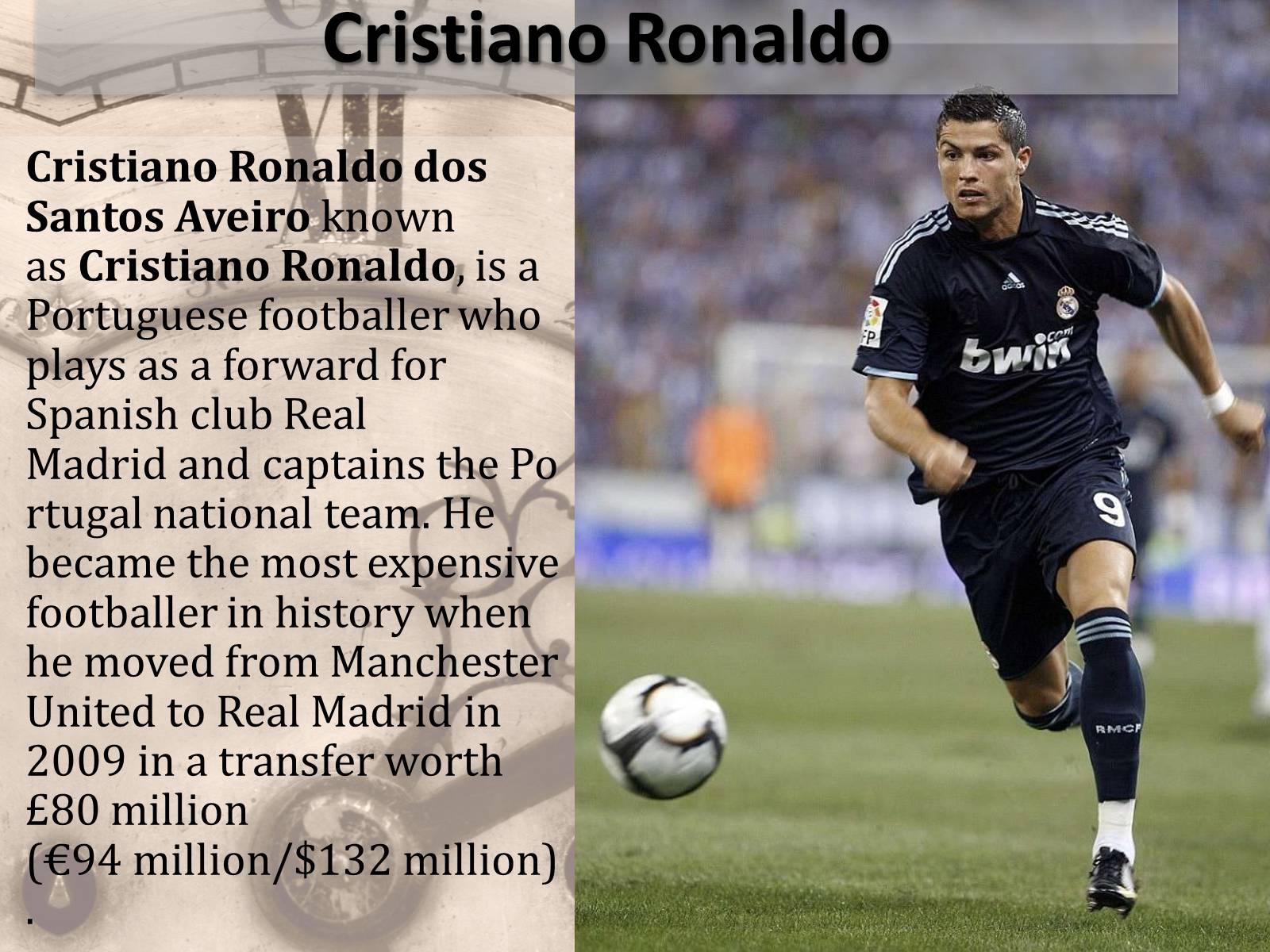 ---
Слайд #12
---
Ronaldo's contract with Real Madrid, under the terms of which he is paid €21 million per year (after taxes), makes him the highest-paid footballer in the world, and his buyout clause is valued at €1 billion as per his contract.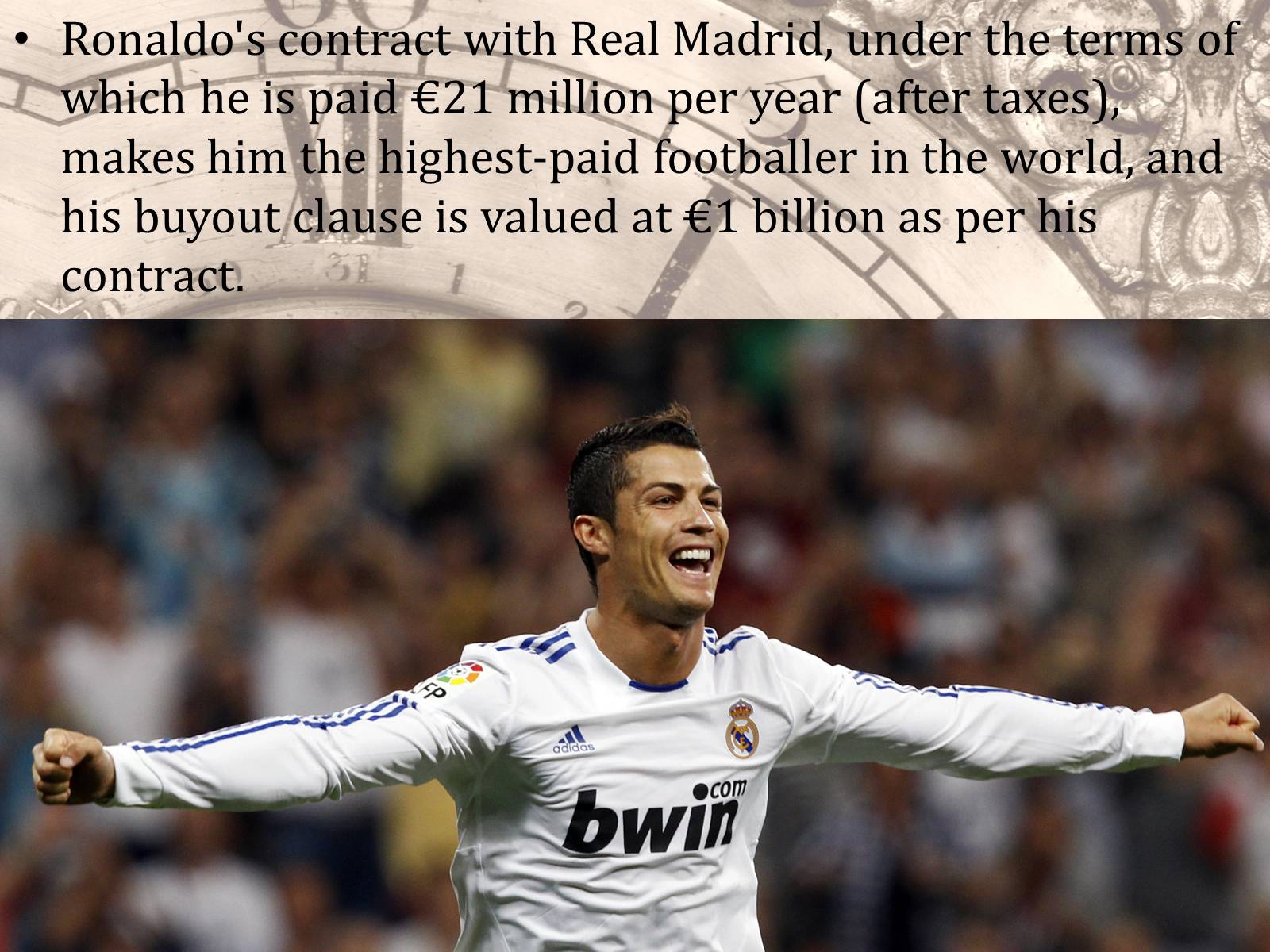 ---
Слайд #13
---
Gerard Piqué
Gerard Piqué i Bernabeu born 2 February 1987) is a Spanish professional foot-baller who plays as a centre-back for FC Barcelona.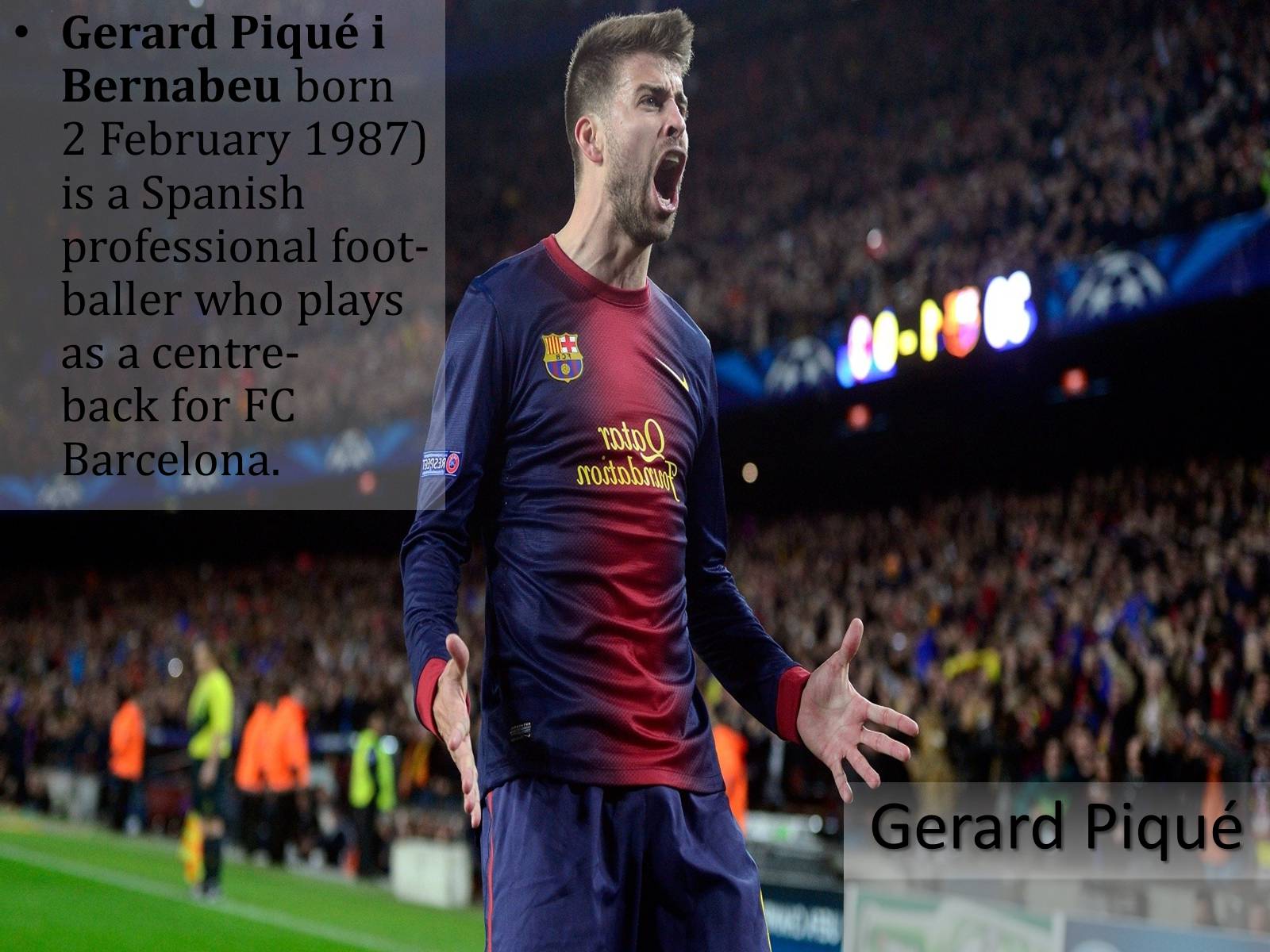 ---
Слайд #14
---
A product of Barça's cantera, La Masia, he initially left the club for Manchester United in 2004, where he remained for four years, before returning to Barça under Pep Guardiola's leadership, helping the club become the first ever to complete a Sextuple. Piqué is one of four players to have won the UEFA Champions League two years in a row with different teams.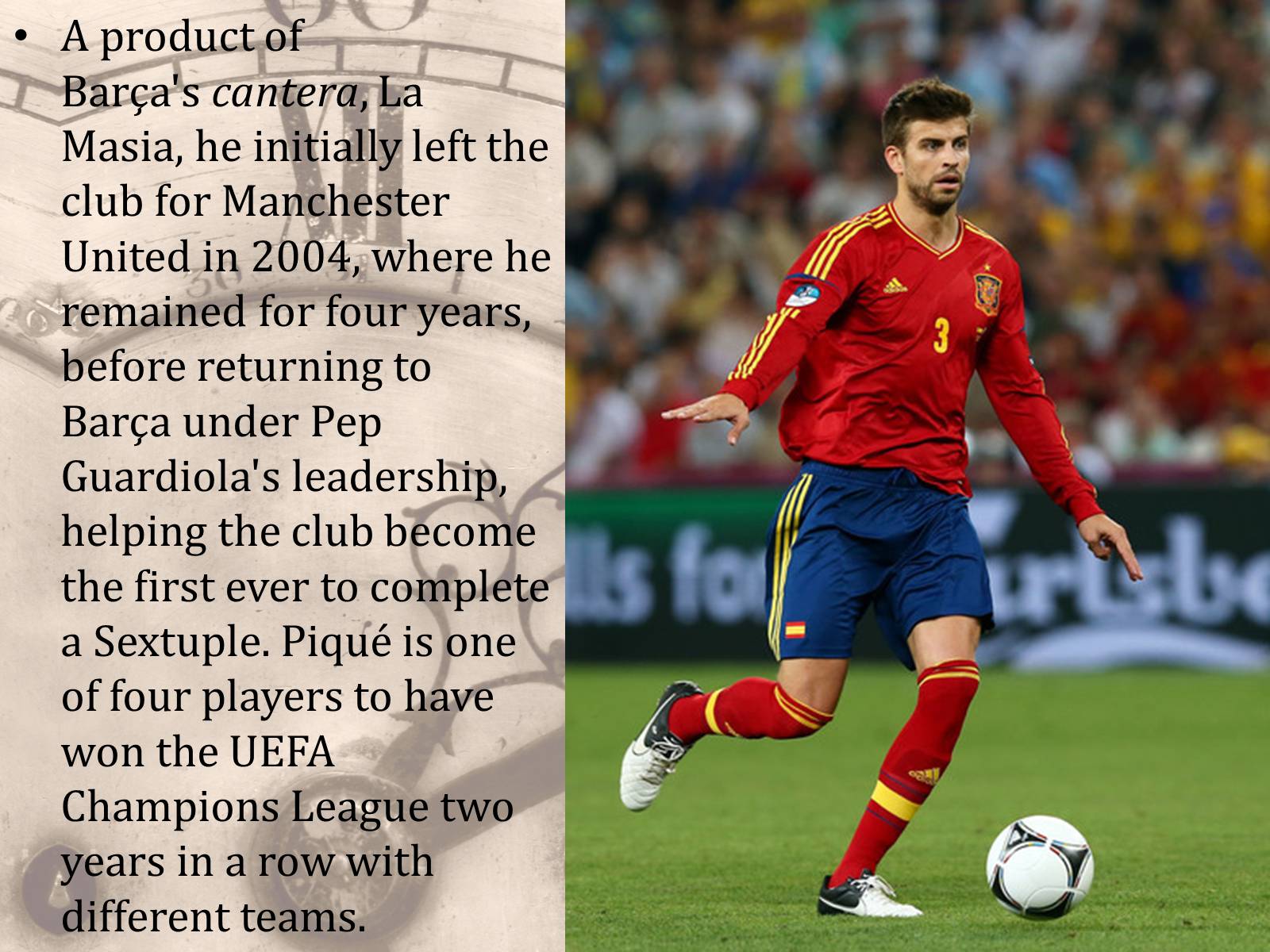 ---
Слайд #15
---
Piqué has also represented Spain, making his debut on 11 February 2009. He played an integral role in the Spain team that won the 2010 FIFA World Cup and UEFA Euro 2012.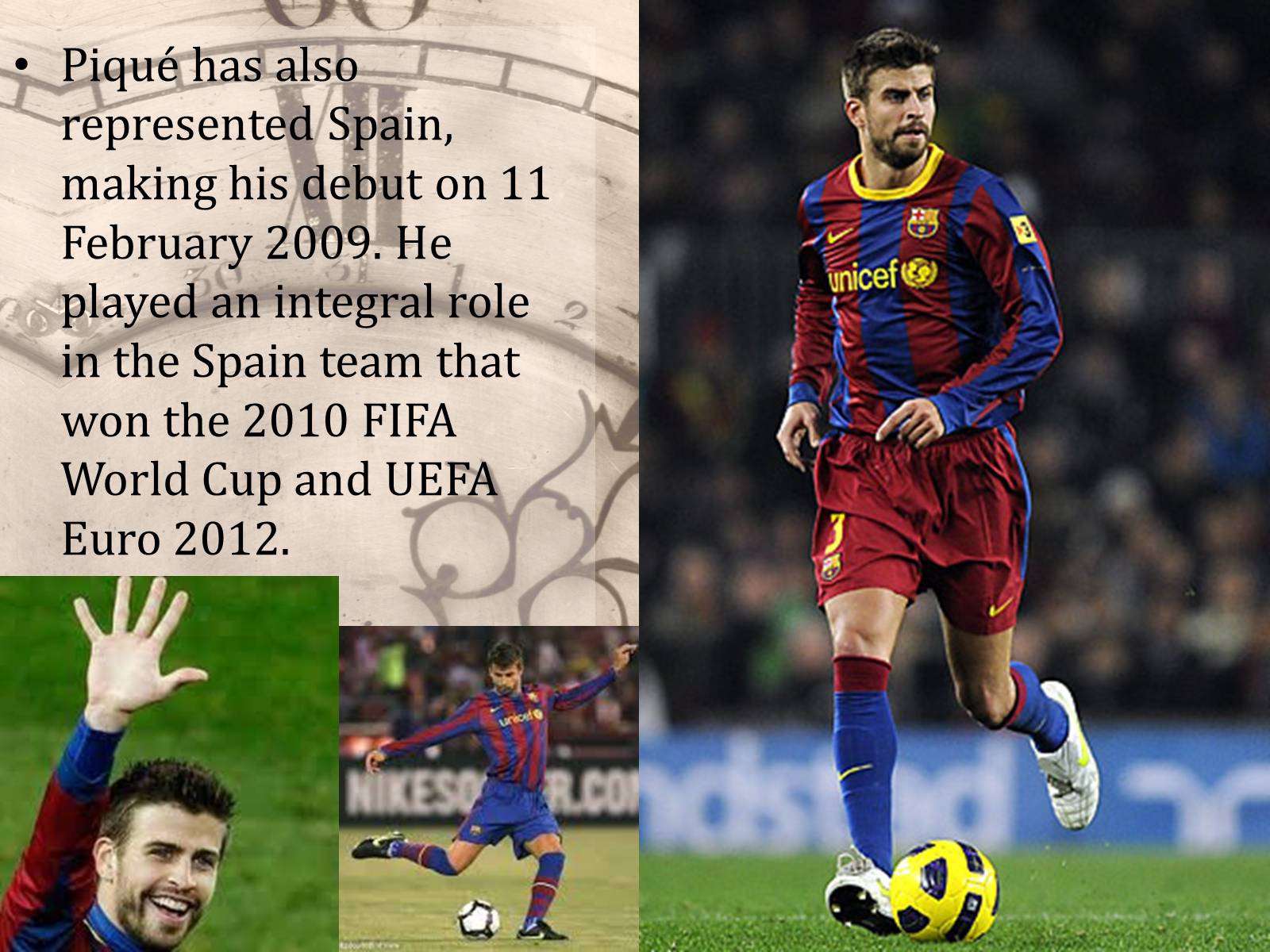 ---
Слайд #16
---
Xabi Alonso
Xabier "Xabi" Alonso Olano is a Spanish footballer. He plays as defensive midfielder and is a deep-lying playmaker. Alonso began his career at Real Sociedad captain. Alonso succeeded in the role, taking Real Sociedad to second place in the 2002–03 season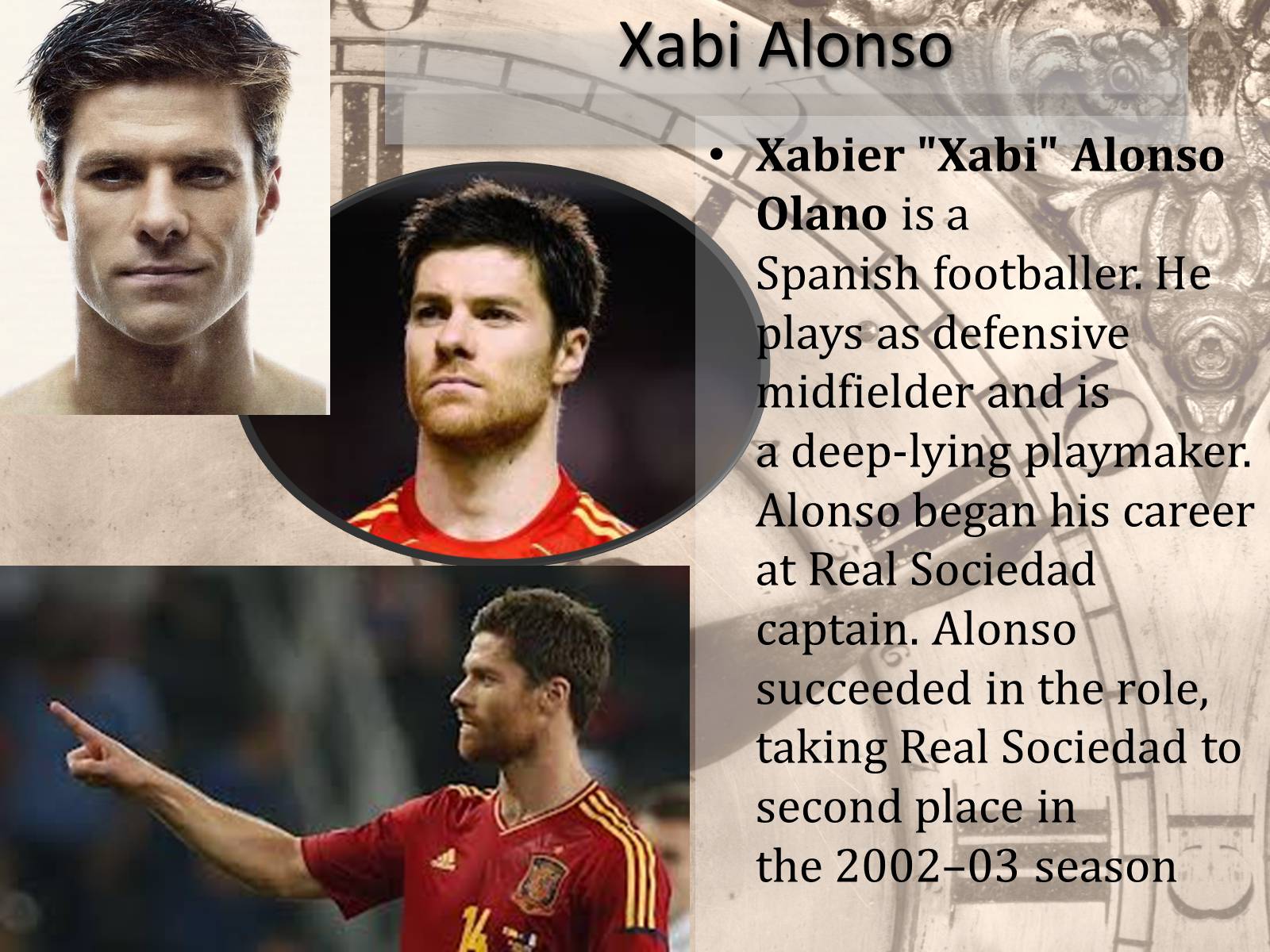 ---
Слайд #17
---
.He moved to Liverpool in August 2004 for £10.5 million. He won the UEFA Champions League in his first season at the club, scoring the equalising goal in the Final. The following season, he won the FA Cup and the FA Community Shield. He moved to Real Madrid for the start of the 2009–10 season in a deal worth around £30 million.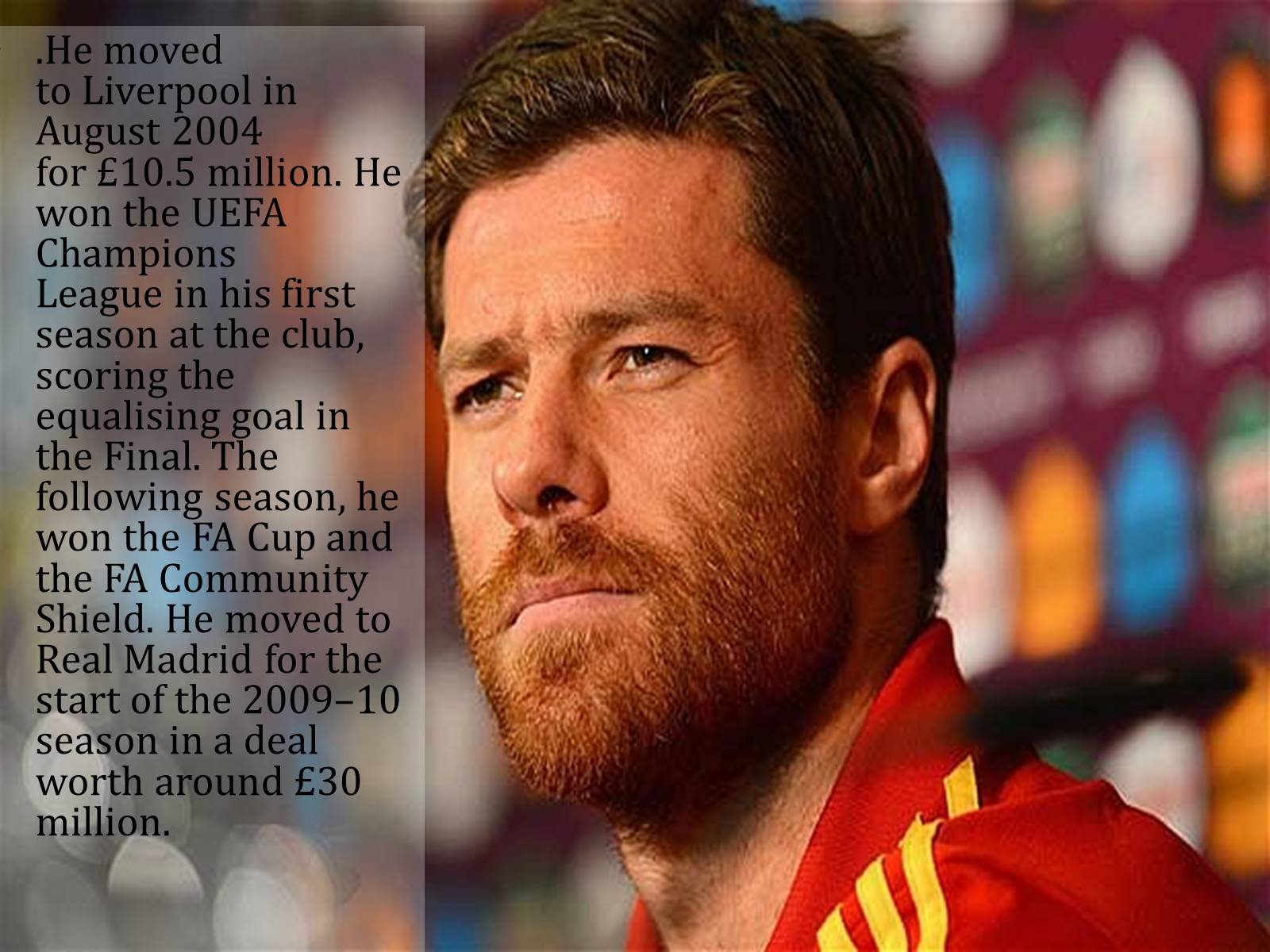 ---
Слайд #18
---
Top 5 of Ukrain's footballers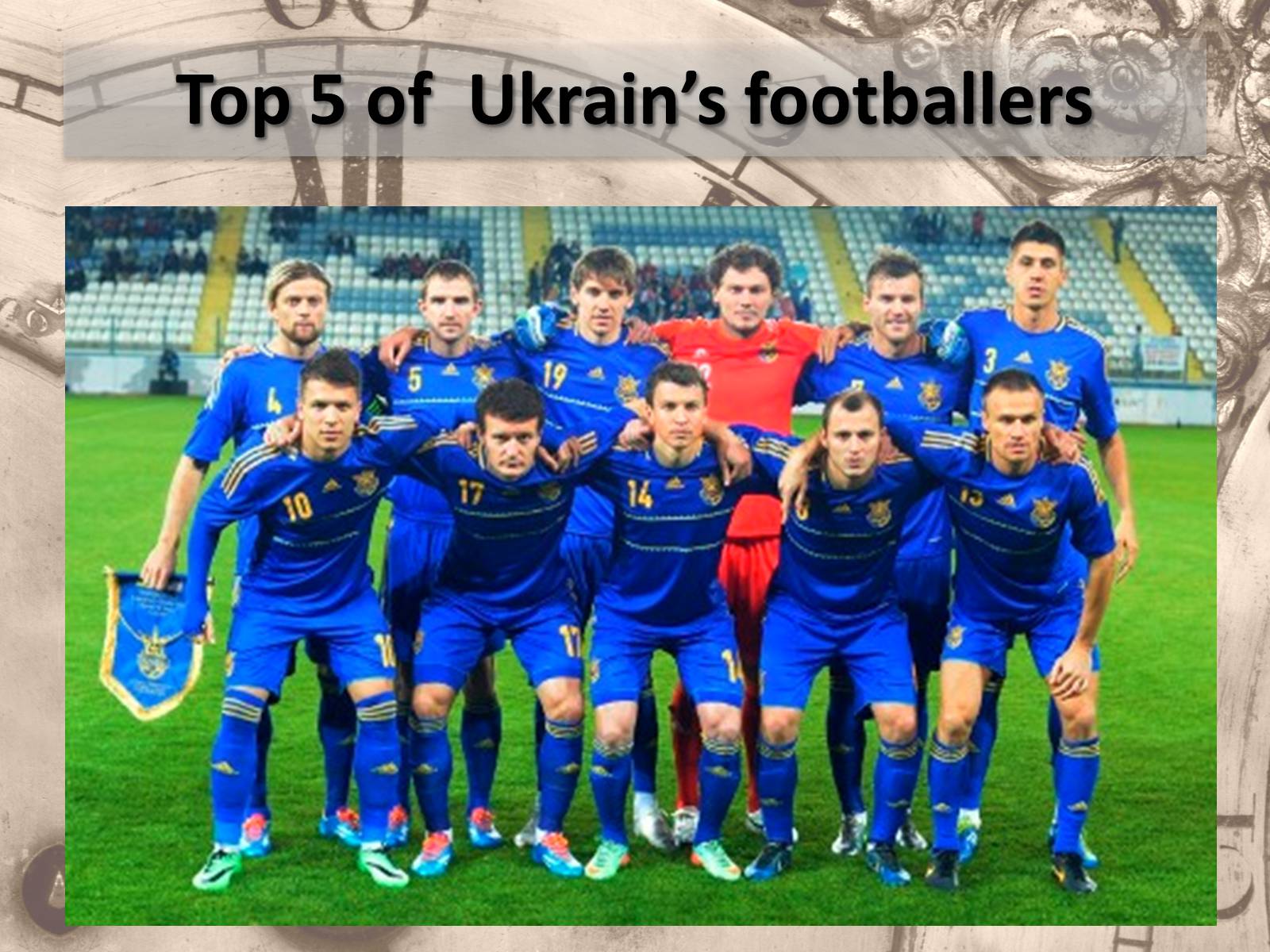 ---
Слайд #19
---
Andriy Shevchenko
Andriy Mykolayovych Shevchenko is a former Ukrainian footballer and politician. He is the third-highest goalscorer in Champions League history with 59 goals as of 10 March 2011. Shevchenko is ranked as the third top goalscorer in all European competitions with 67 goals. With a tally of 175 goals scored for Milan, Shevchenko is the second most prolific player in the history of the club, and is also the all-time second-best scorer of the Derby della Madonnina with 14 goals. In addition, he is the all-time top scorer for the Ukrainian national team with 48 goals.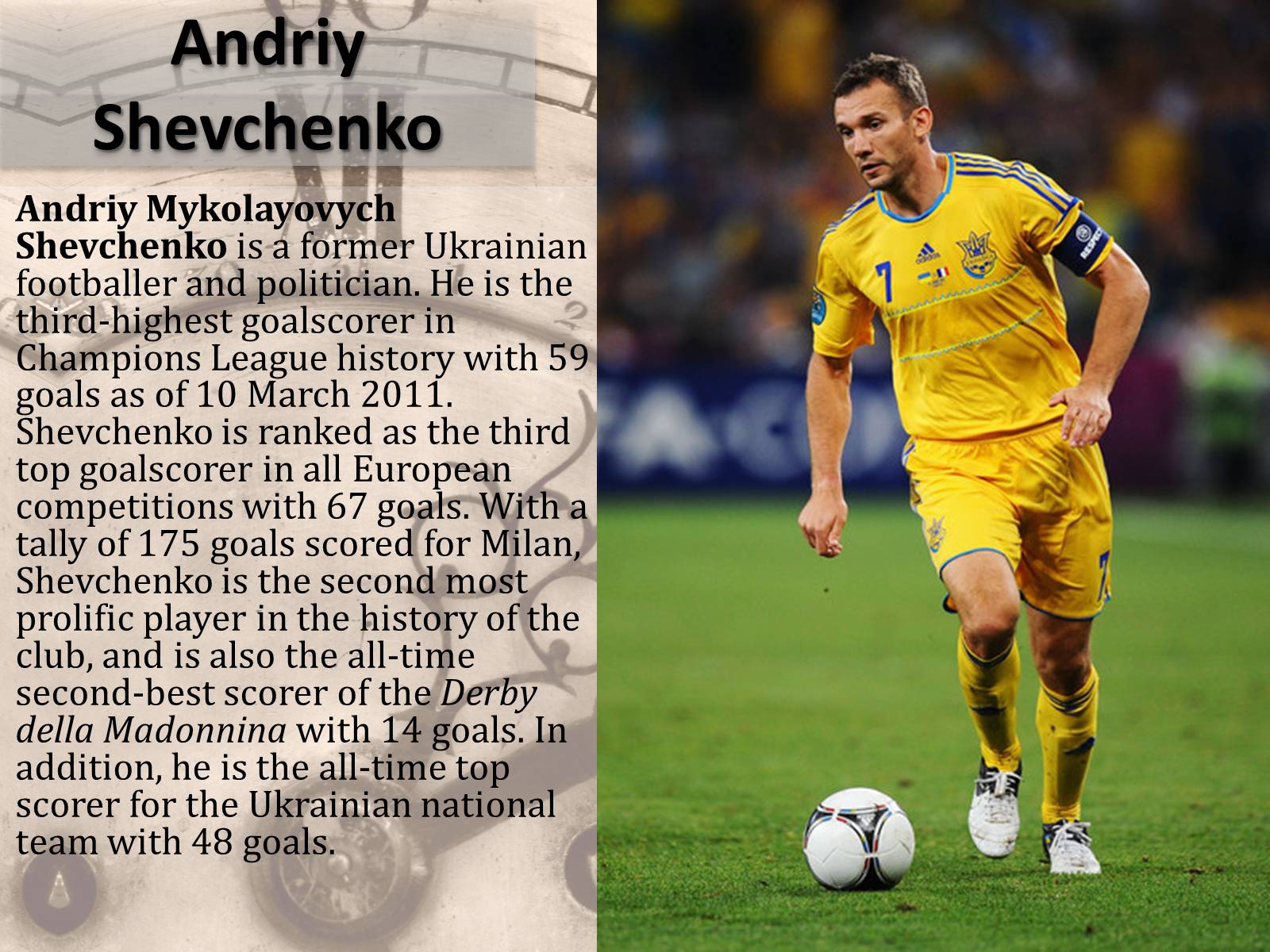 ---
Слайд #20
---
Shevchenko's career has been highlighted by many awards, the most prestigious of which was the Ballon d'Or in 2004 . He won the UEFA Champions League in 2003 with Milan, and he has also won various league and cup titles in Ukraine, Italy, and England. He is also a UEFA Champions League runner-up in 2005 and 2008.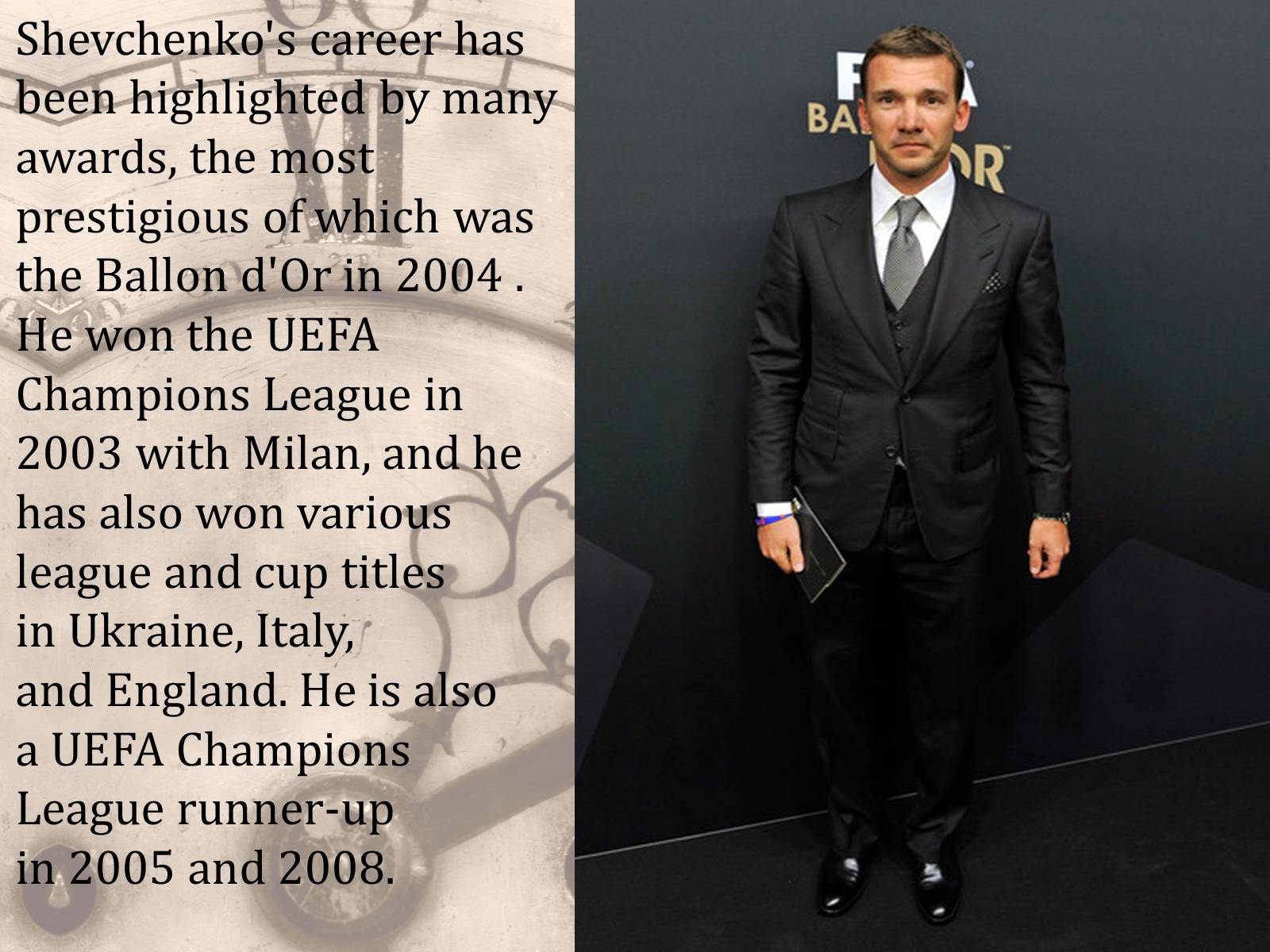 ---
Слайд #21
---
In his illustrious international career, the striker led Ukraine as captain to the quarter-finals in their first ever FIFA World Cup appearance in 2006. He is capable of playing centre-forward or attacking from the left wing and is effective with set-pieces and penalties.Even though mostly he was a striker, upon his return to Kiev he was used as a left winger.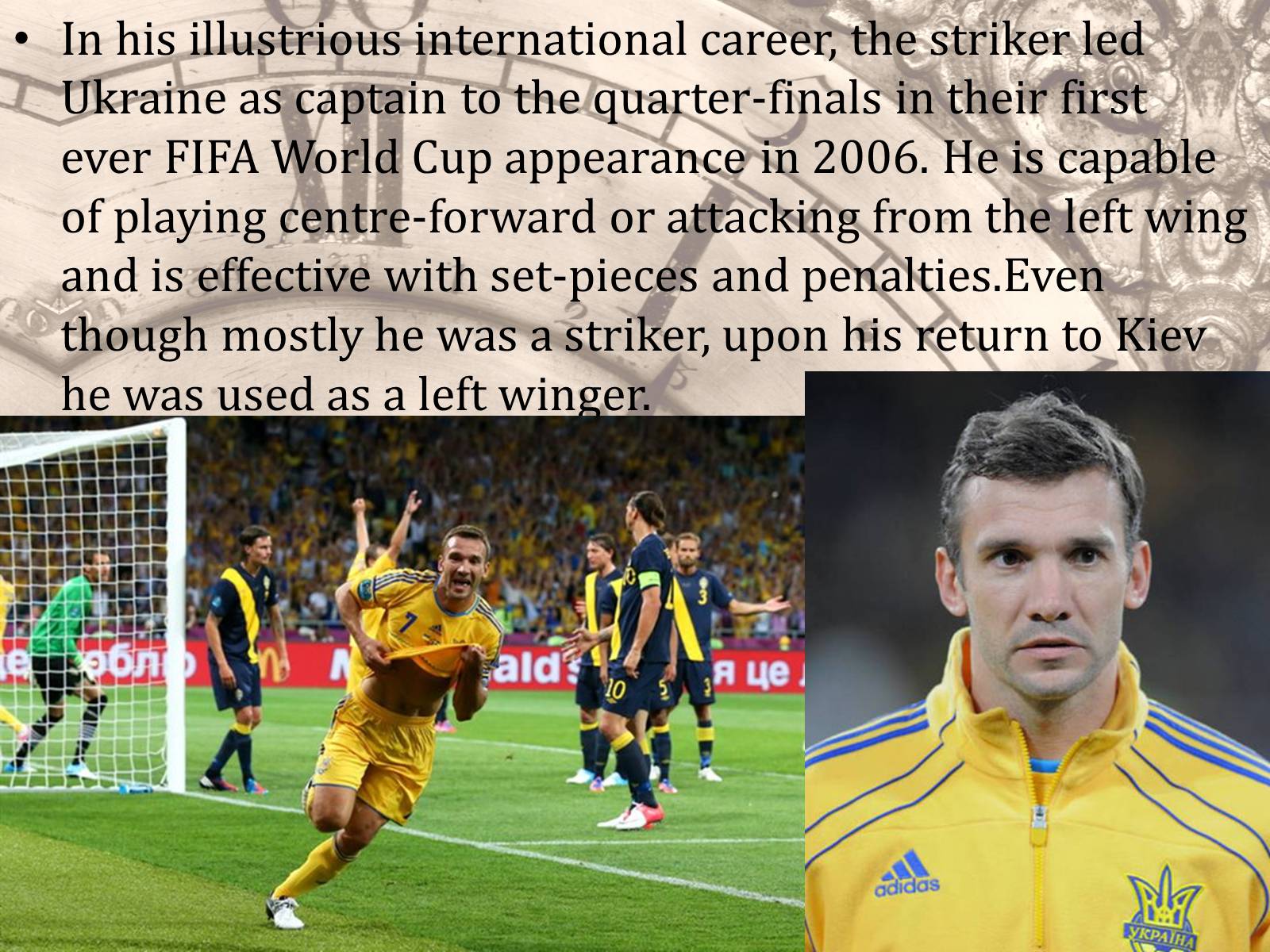 ---
Слайд #22
---
Oleksandr Shovkovskiy
Oleksandr Volodymyrovych Shovkovskiy (born 2 January 1975) is a Ukrainian footballer who plays as a goalkeeper. He has played for Dynamo Kyiv in the Vyscha Liha, the top level of Ukrainian football, since 1993.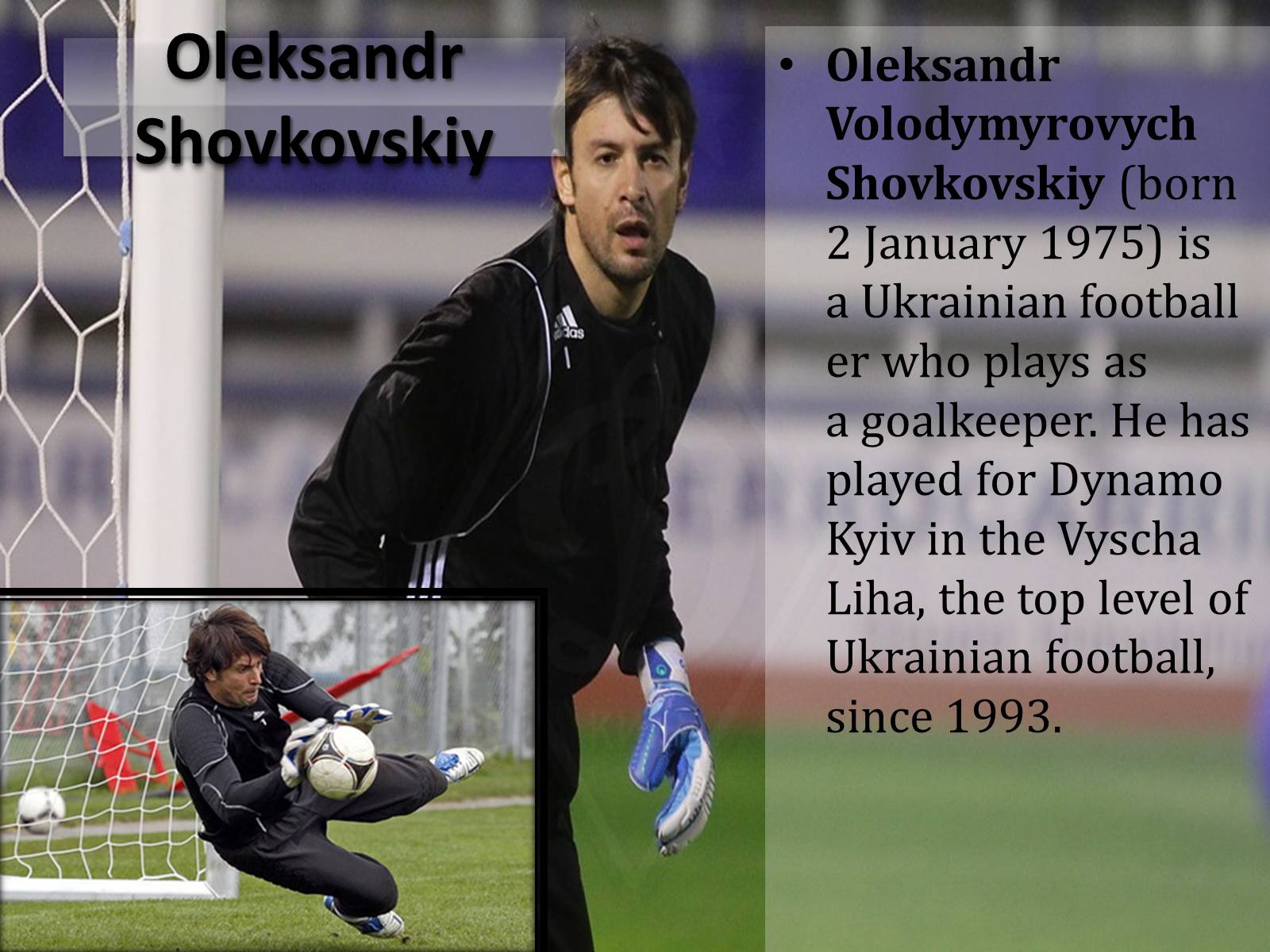 ---
Слайд #23
---
Yevhen Konoplyanka
Yevhen Olehovych Konoplyanka born 29 September 1989) is a Ukrainian footballer who plays for FC Dnipro Dnipropetrovsk in the Ukrainian Premier League and the Ukraine national team. His main position is left-sided winger.
A full international since 2010, Konoplyanka played for Ukraine when they co-hosted Euro 2012.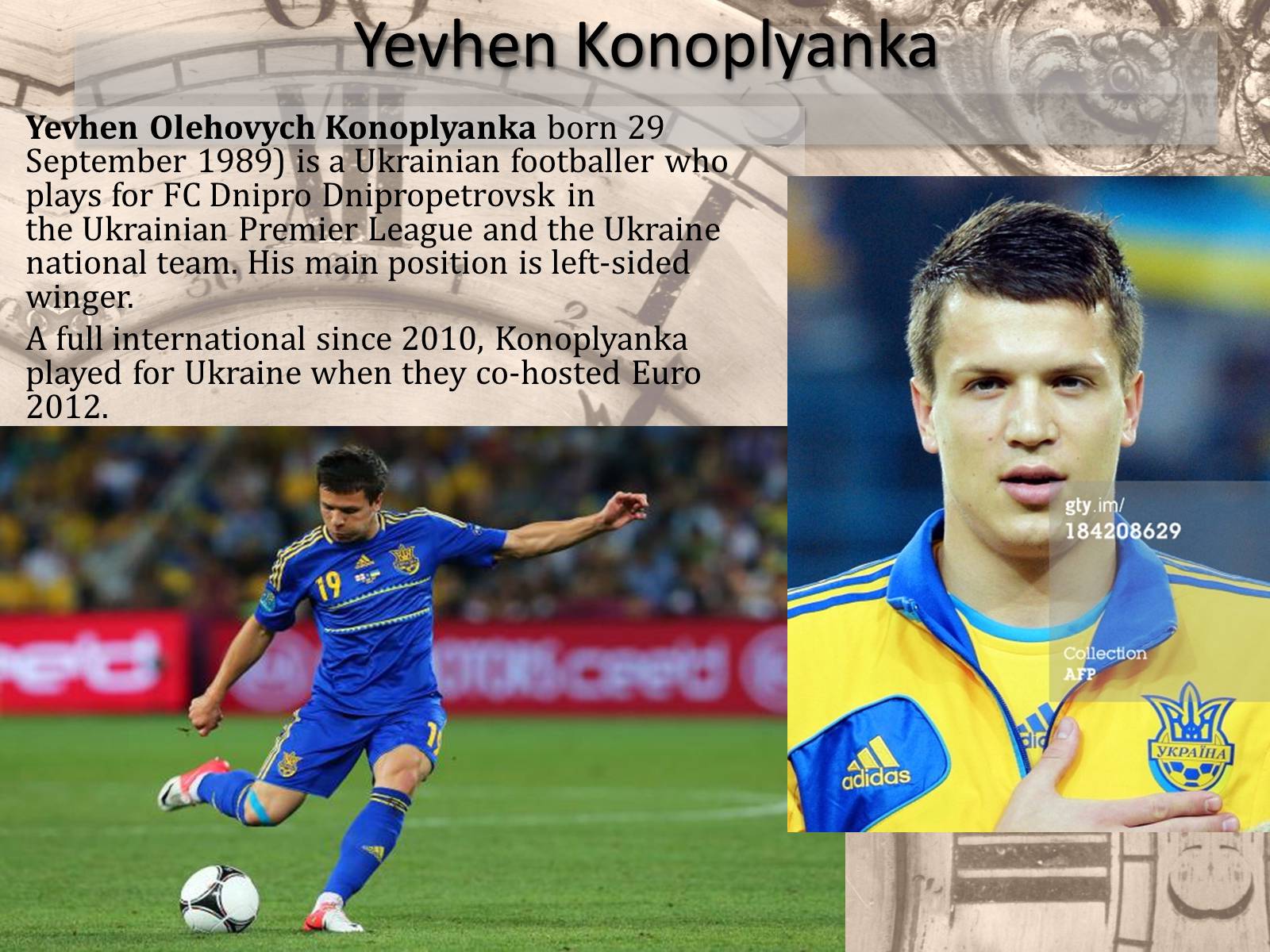 ---
Слайд #24
---
Style of play
Konoplyanka is described as a versatile team player, with good vision, passing, pace, dribbling, and creativity.
Tactically, he plays a free attacking and occasionally a playmaking role. He is comfortable attacking on either wing or through the centre of the pitch. He began in a deeper role but he has found his best form as left winger in a flexible 4-2-3-1.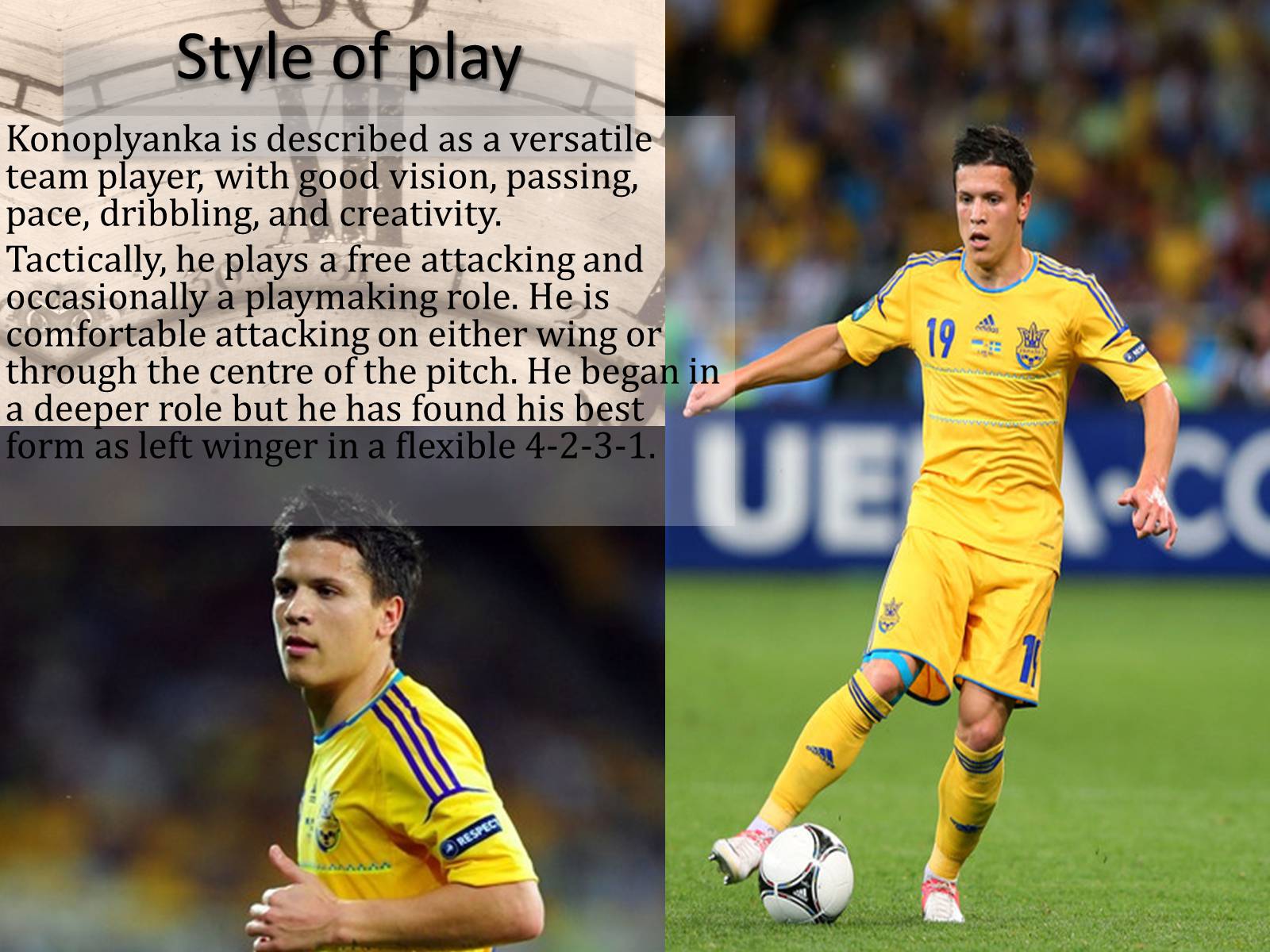 ---
Слайд #25
---
Anatoliy Tymoshchuk
Anatoliy Oleksandrovych Tymoshchuk  is a Ukrainian football midfielder who plays for Russian Premier League club FC Zenit Saint Petersburg and captains the Ukrainian national team. He is "a deep-lying midfielder who is comfortable on the ball and capable of ferocious long-range shooting."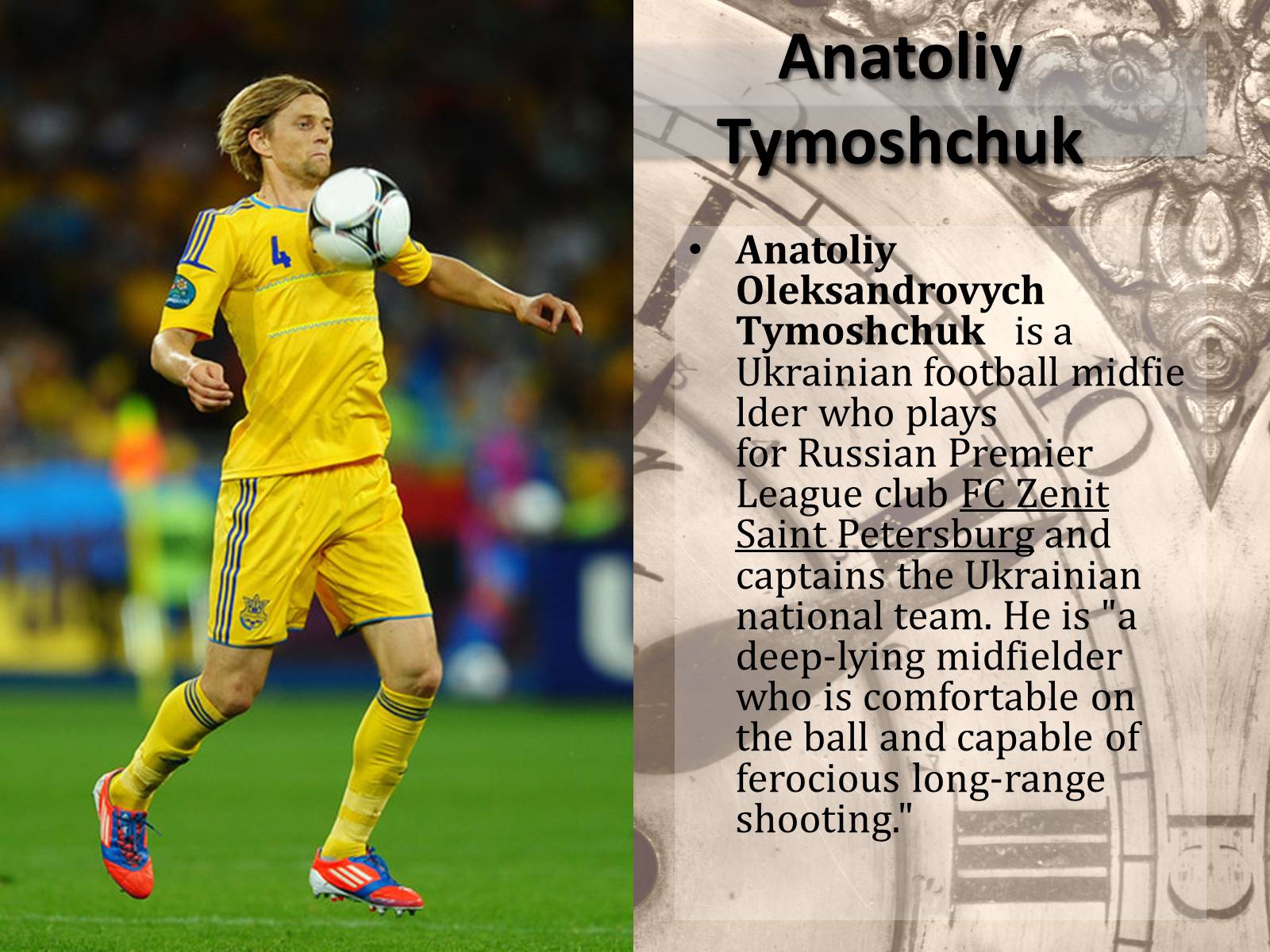 ---
Слайд #26
---
Andriy Yarmolenko
Andriy Mykolaiovich Yarmolenko is a Ukrainian football winger or forward for Dynamo Kyiv in the Ukrainian Premier League and the Ukraine national football team. He is left-footed.
In 2013 Andriy Yarmolenko became the highest scoring foreign born player for the Ukraine national football team surpassing Tymerlan Huseynov, a native of Dagestan, (Russian Federation).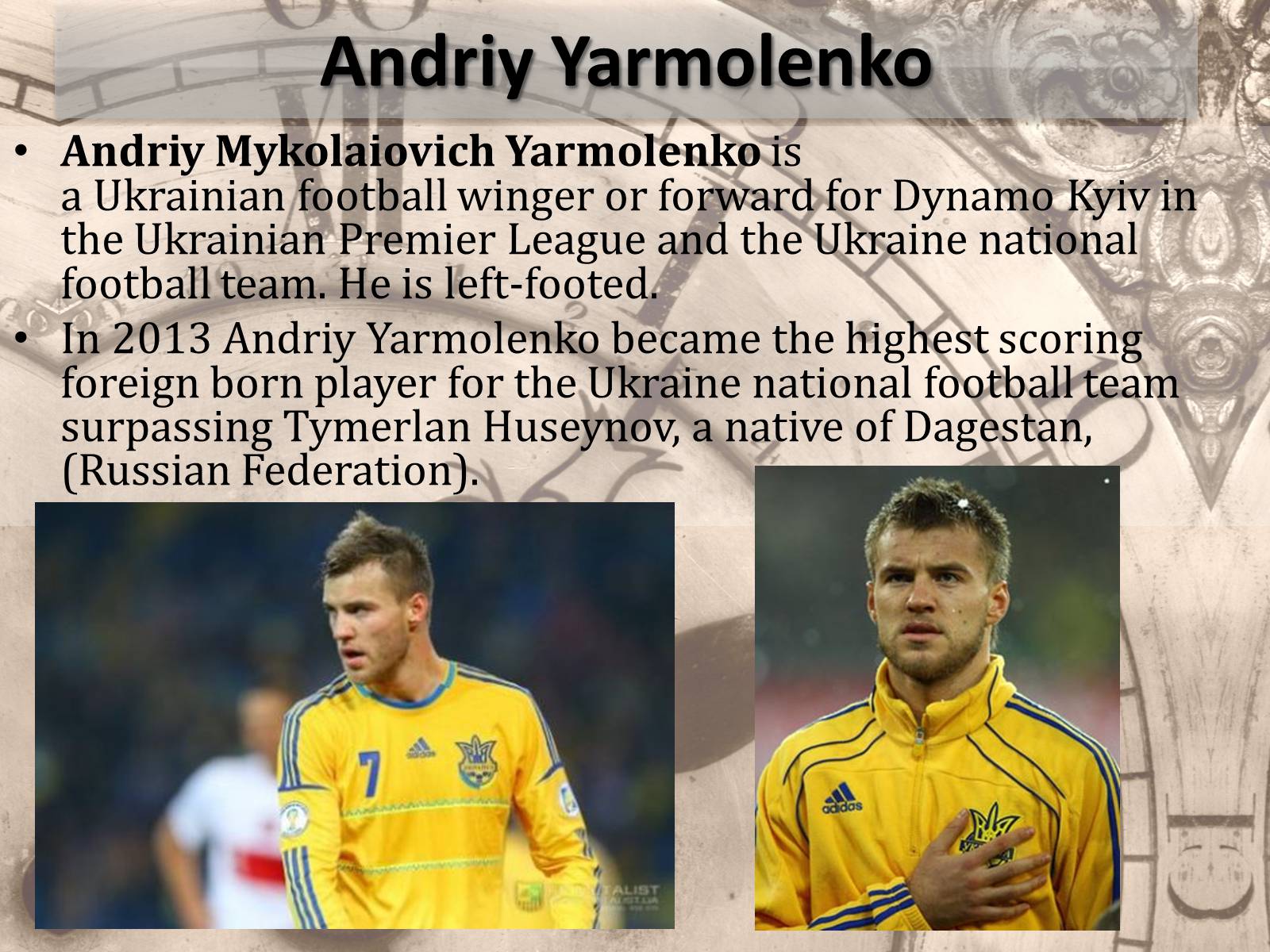 ---
---