Презентація на тему «Broadway»
Презентація на тему «Broadway»
---
---
---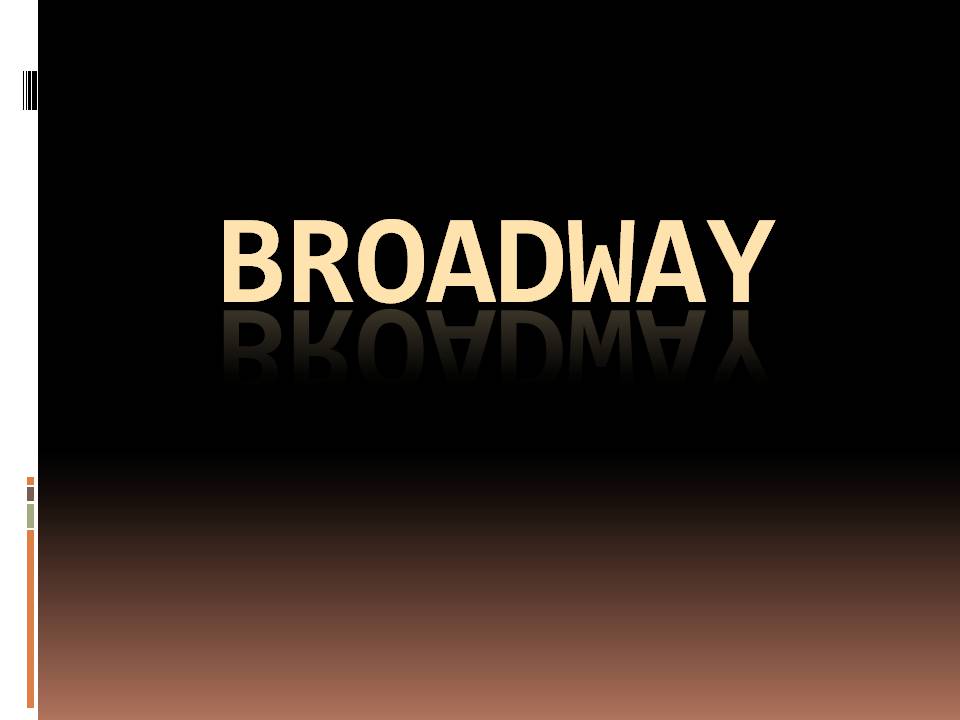 ---
Слайд #2
---
Broadway is the longest(more than 25 km) and the widest street in New York. Street got its name from the "broad way" that the Dutch translates as «Breede weg». On Broadway, is located the famous "Theater District».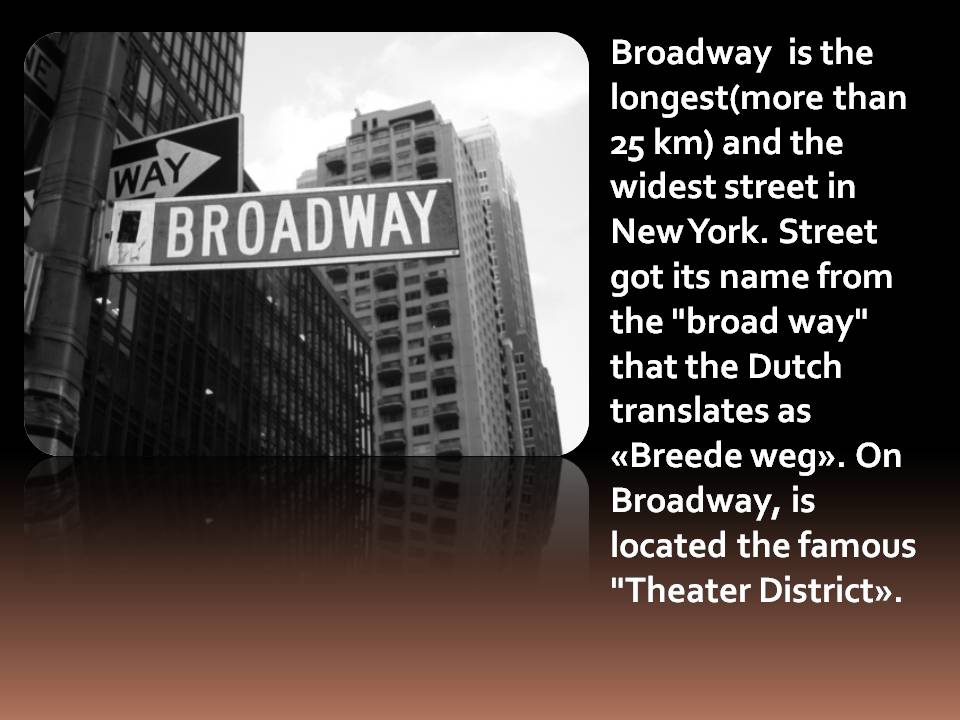 ---
Слайд #3
---
And nowadays there is about fifty theaters. "Broadway" is now called not only the street, but also the type of American theater, which was formed half a century ago on this street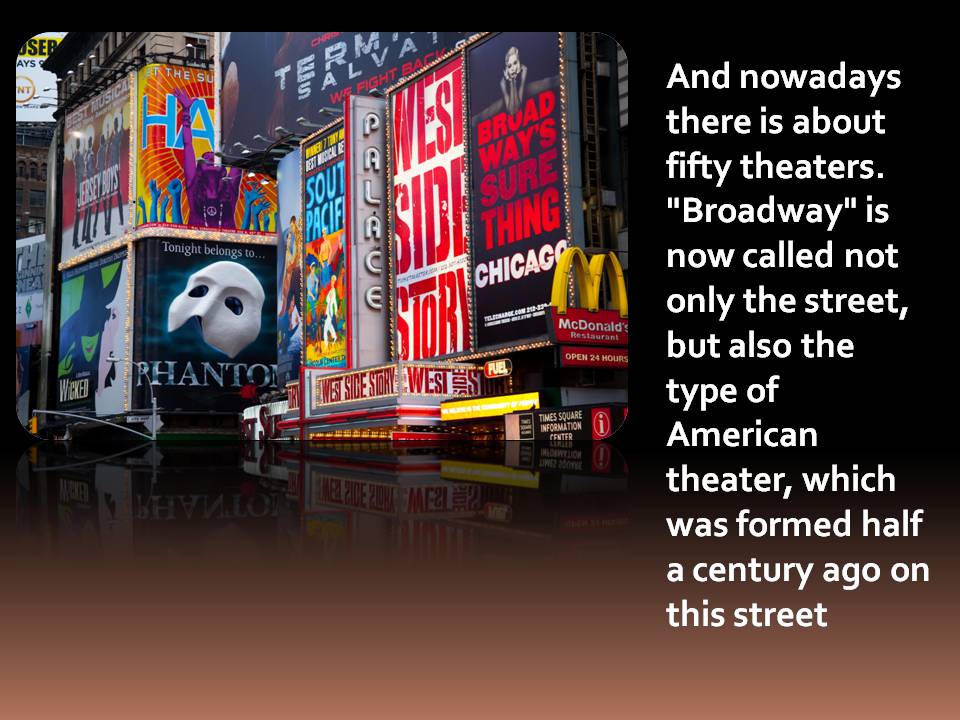 ---
Слайд #4
---
This place gave the world a unsurpassed actors: Marlon Brando, James Dean, Paul Newman. And the street gave the world musicals - this musical productions on Broadway made the genre popular all over the world.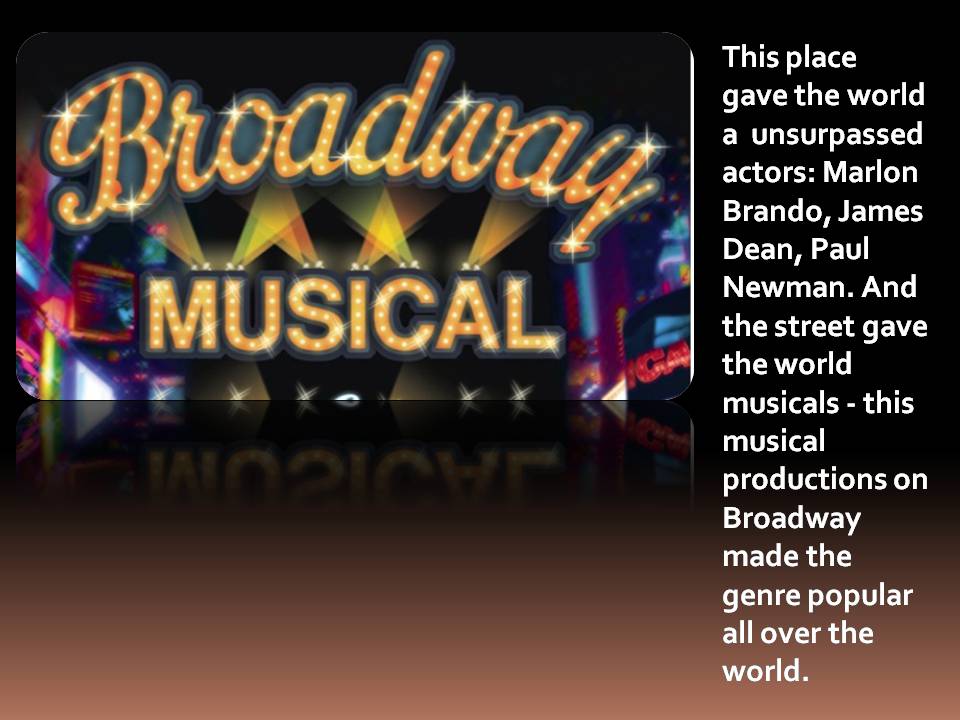 ---
Слайд #5
---
The most famous classic musicals: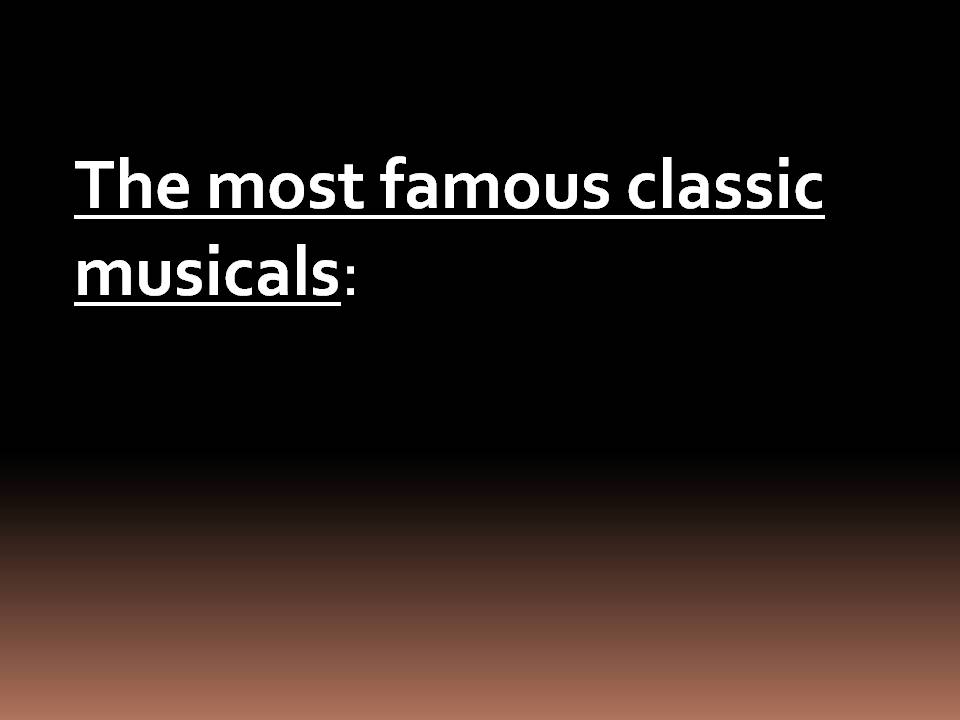 ---
Слайд #6
---
The Phantom of the Opera - Andrew Lloyd Webber musical, based on the eponymous novel by French writer Gaston Leroux. The plot tells the story of a talented singer Christina Dae, who becomes obsessed with a mysterious, disfigured musical genius. The performance was the most long-playing musical in Broadway history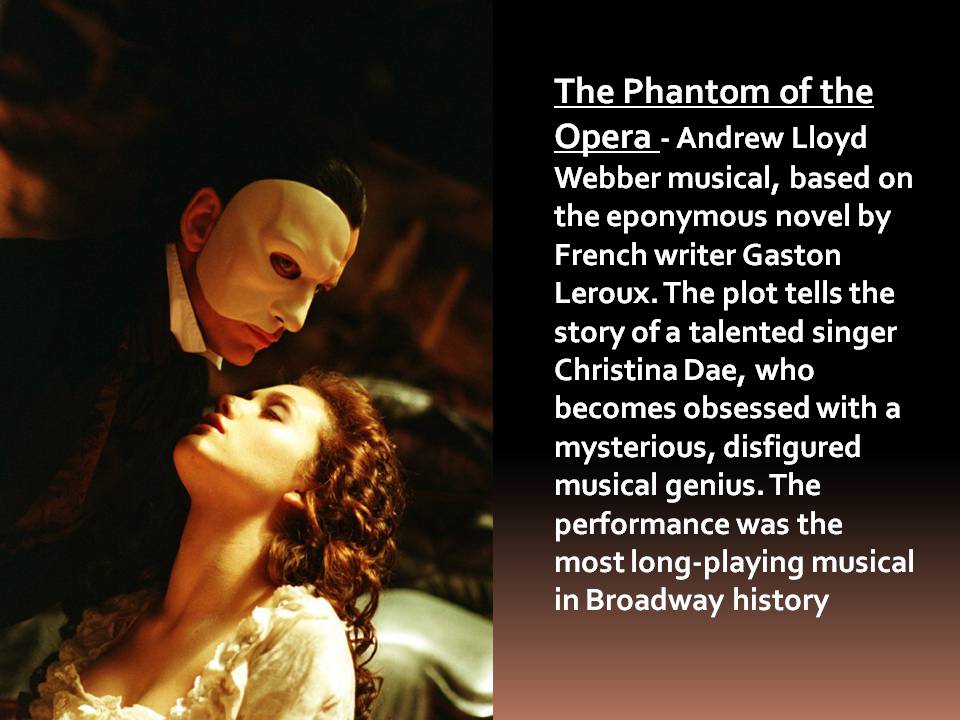 ---
Слайд #7
---
"Chicago"- musical Rob Marshall. The play "Chicago" on which was written filmed musical focuses on two high-profile murders committed in Chicago in 1924. Author of the play, Maureen Watkins, became the prototype image meticulous journalist Mary Sunshine. December 30, 1926 performance of "Chicago" opened on Broadway. The play stood 182 performances.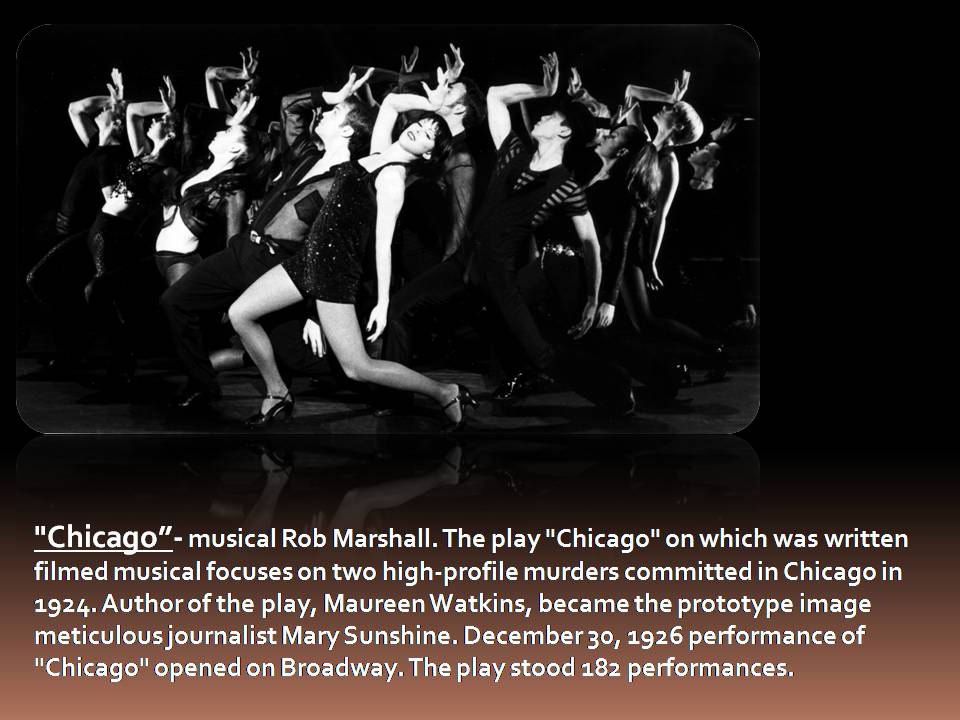 ---
Слайд #8
---
"Hair" - a psychedelic musical, which is a milestone hippie movement of the 1960s Premiered at the Broadway stage took place in April 1968 where stood the 1873 musical performances. In the last scene of Act I of the musical, all parties appear before the audience naked.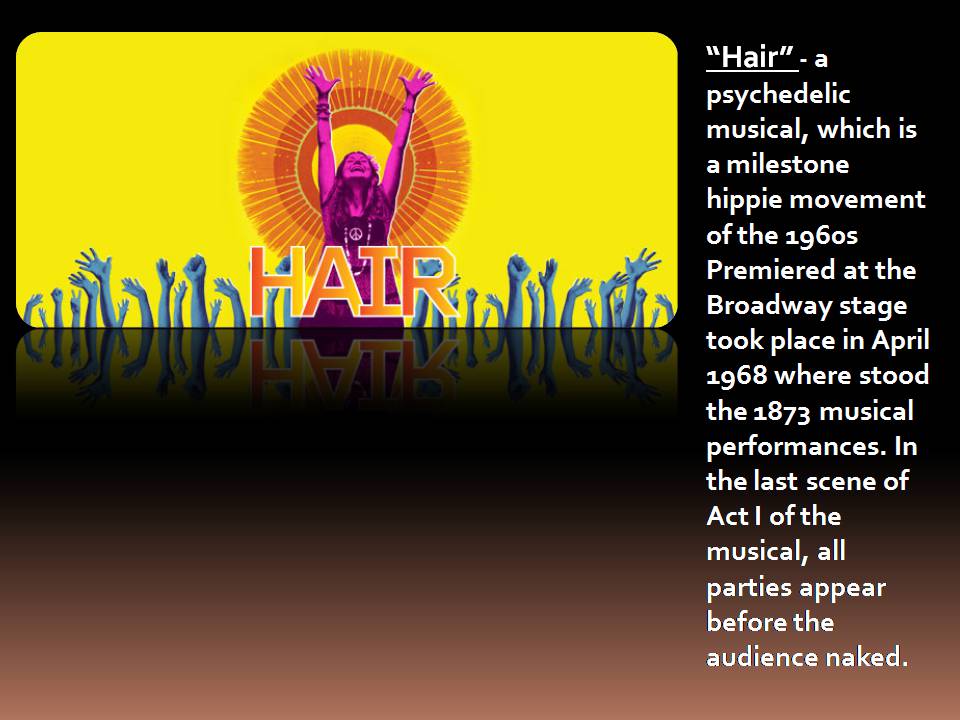 ---
Слайд #9
---
"Cats" (1981) - musical E. Lloyd Webber. Libretto based on a collection of children's poems of TS Eliot, "Old Possum's Book of Practical Cats". The main theme of the musical "Cats" (1981) by Andrew Lloyd Webber. The song is a character named Grizabella (once glamorous cat nostalgic about his past)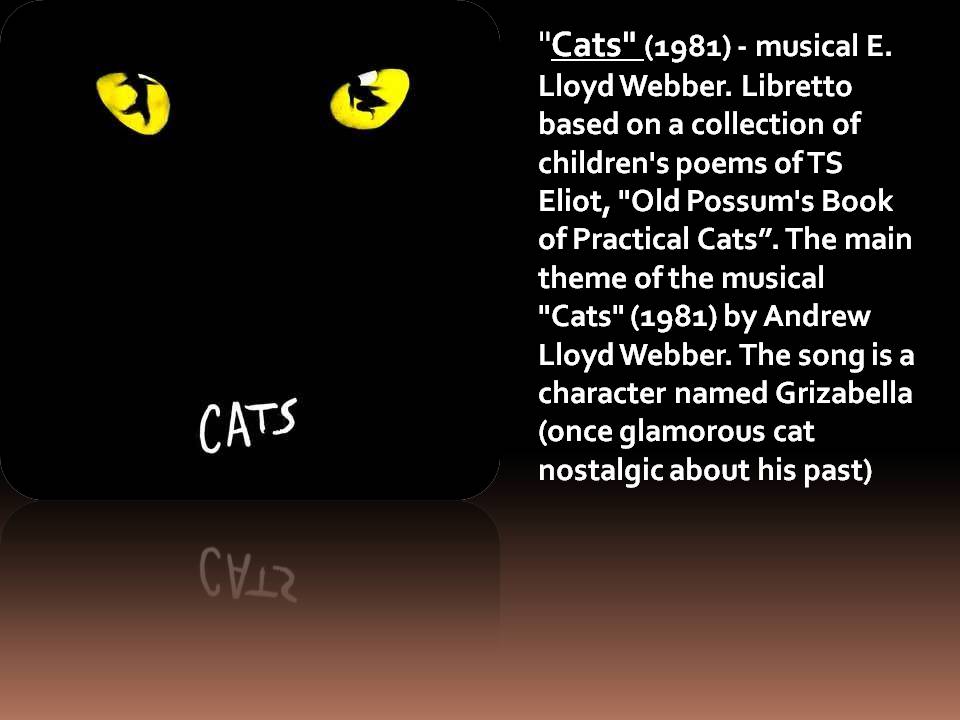 ---
Слайд #10
---
As in the US, unlike other developed countries no state program to support the theater, and it is making frivolous Broadway show to attract more viewers. Visit performances on Broadway - a popular entertainment of tourists visiting New York.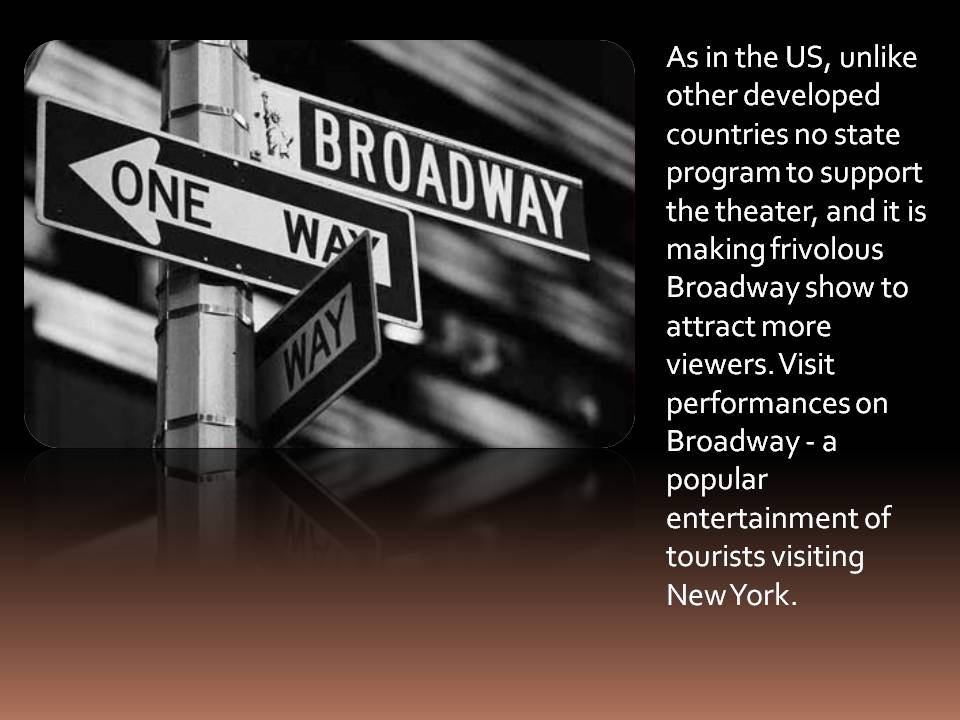 ---
---