Презентація на тему «Edinburgh Festival»
Презентація на тему «Edinburgh Festival»
---
---
---
Слайд #1
---
Edinburgh Festival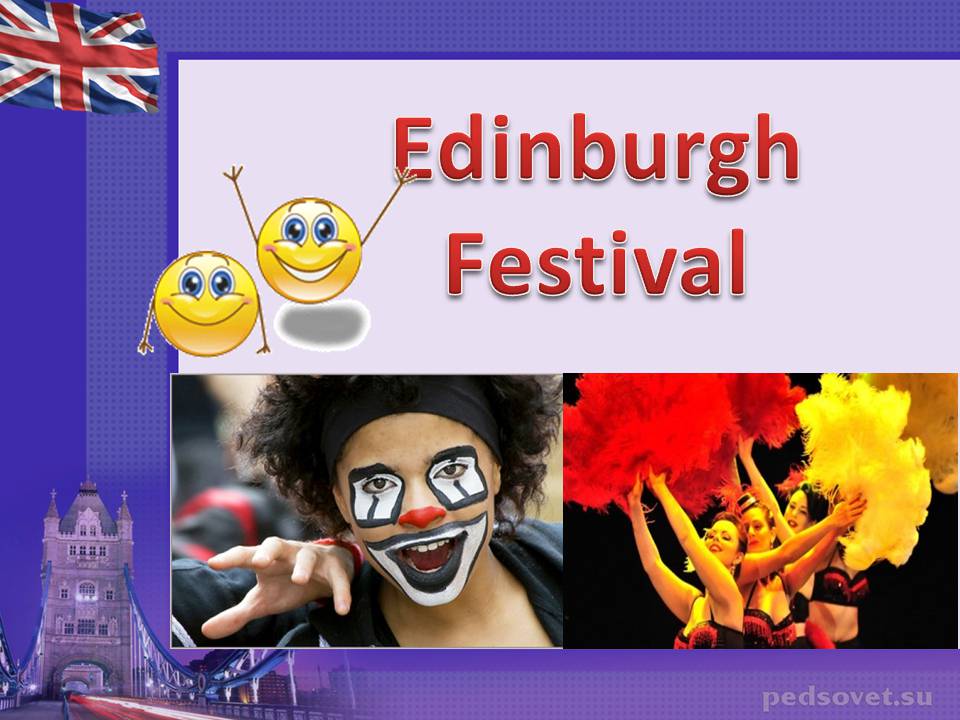 ---
Слайд #2
---
The Edinburgh Festival is a collective term for many arts and cultural festivals that take place in Edinburgh, Scotland each summer, mostly in August. Though the festivals are put on by various organisations unrelated to each other, and so are officially separate events, they are regarded by many visitors as part of the same event; and together they form the largest annual cultural festival in the world.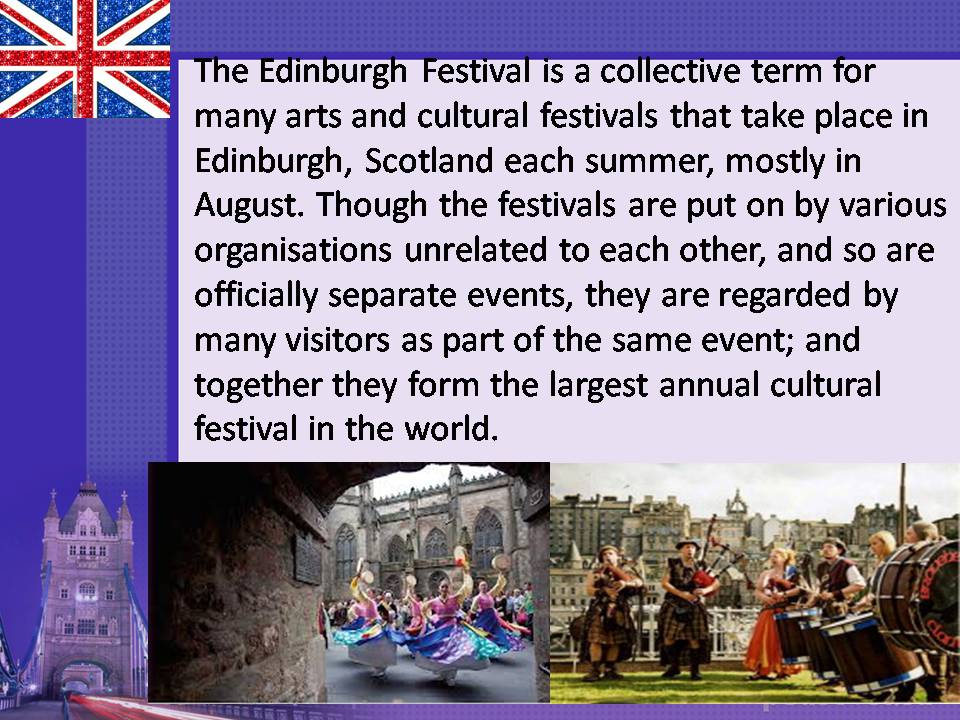 ---
Слайд #3
---
The original, and still the largest, component festivals are the Edinburgh International Festival and the Edinburgh Festival Fringe; the latter is in its own right larger than any other similar event in the world.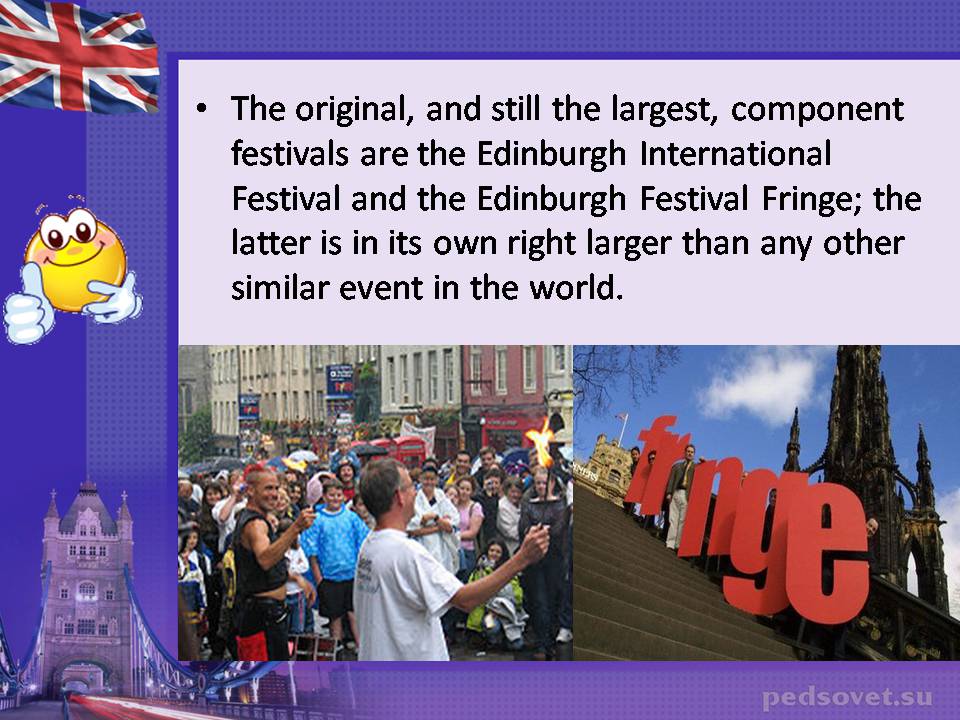 ---
Слайд #4
---
The Edinburgh International Festival (EIF) was established in 1947 in a post-war effort to "provide a platform for the flowering of the human spirit". That same year, eight theatrical companies "gatecrashed" the official Festival by organizing their own event, outside the official auspices of the EIF; this started the movement which grew into the Edinburgh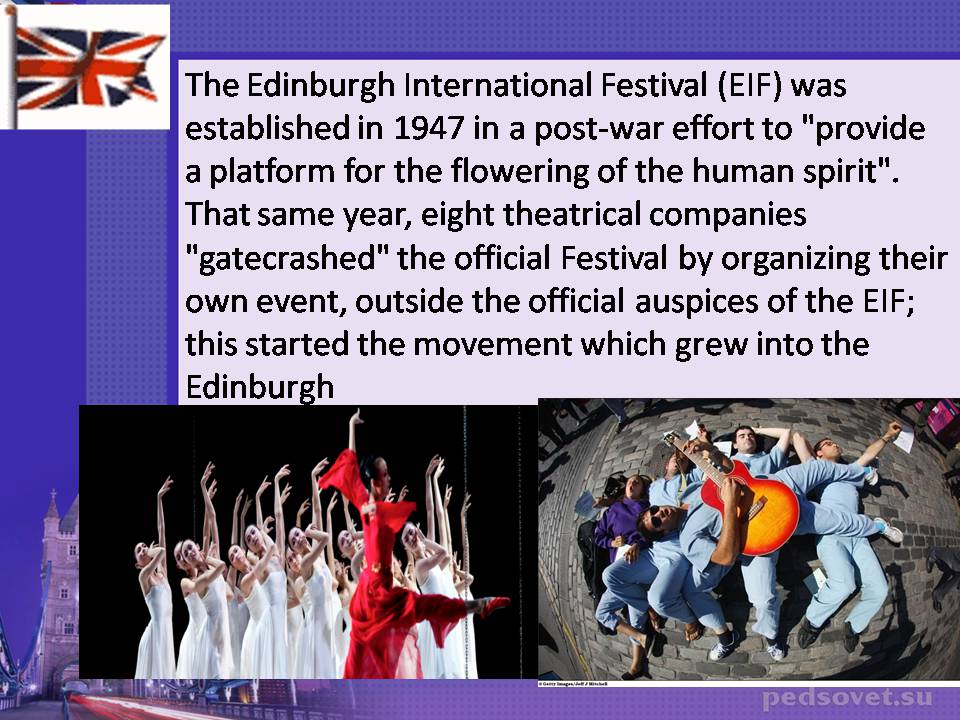 ---
Слайд #5
---
The EFF is also referred to as the Edinburgh Fringe, the Fringe, or (incorrectly) the Edinburgh Fringe Festival.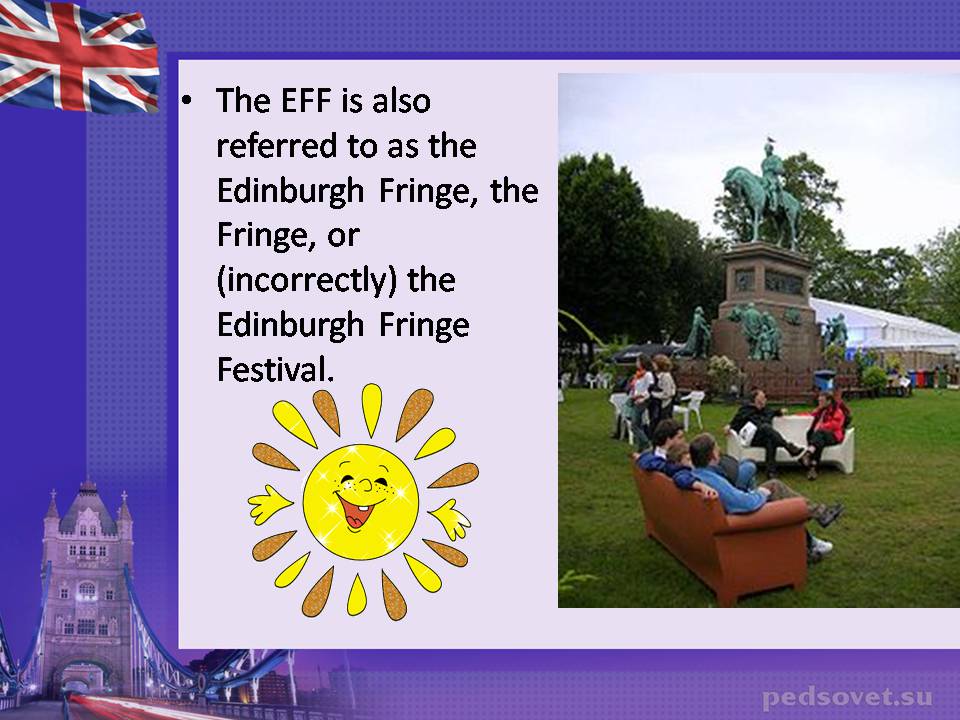 ---
Слайд #6
---
The EIF and the Fringe remain independent bodies and run separate programmes each year. In more recent years various other annual cultural festivals have been created in Edinburgh, again by separate organizations, though taking place at around the same time.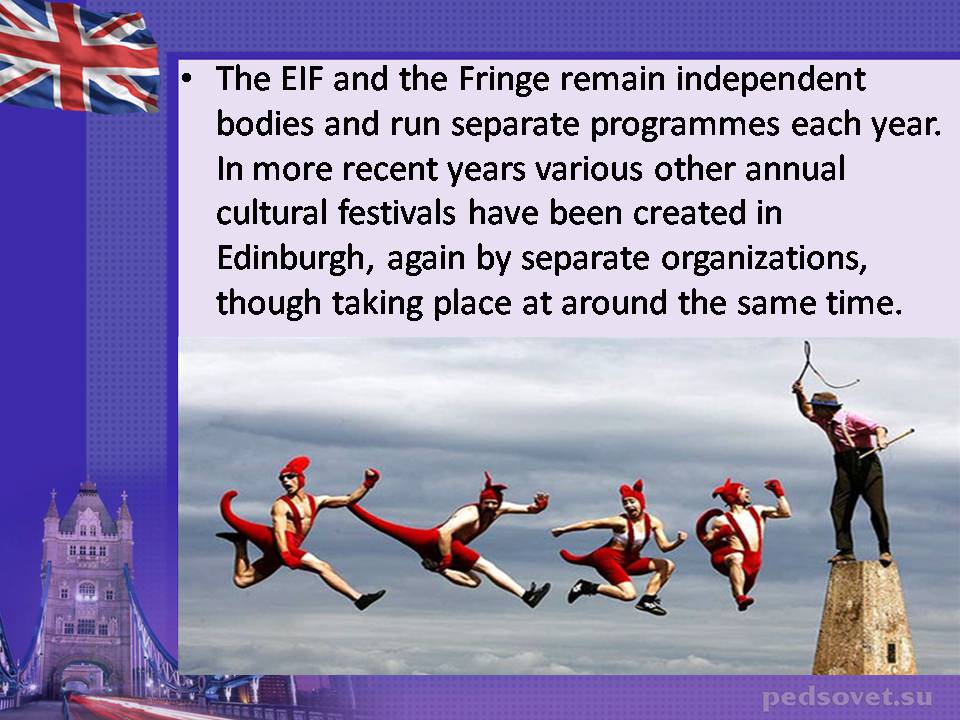 ---
Слайд #7
---
The Royal Mile where performers "on the Fringe" showcase their talents
Cast members publicising a Fringe production of Shakespeare's Macbeth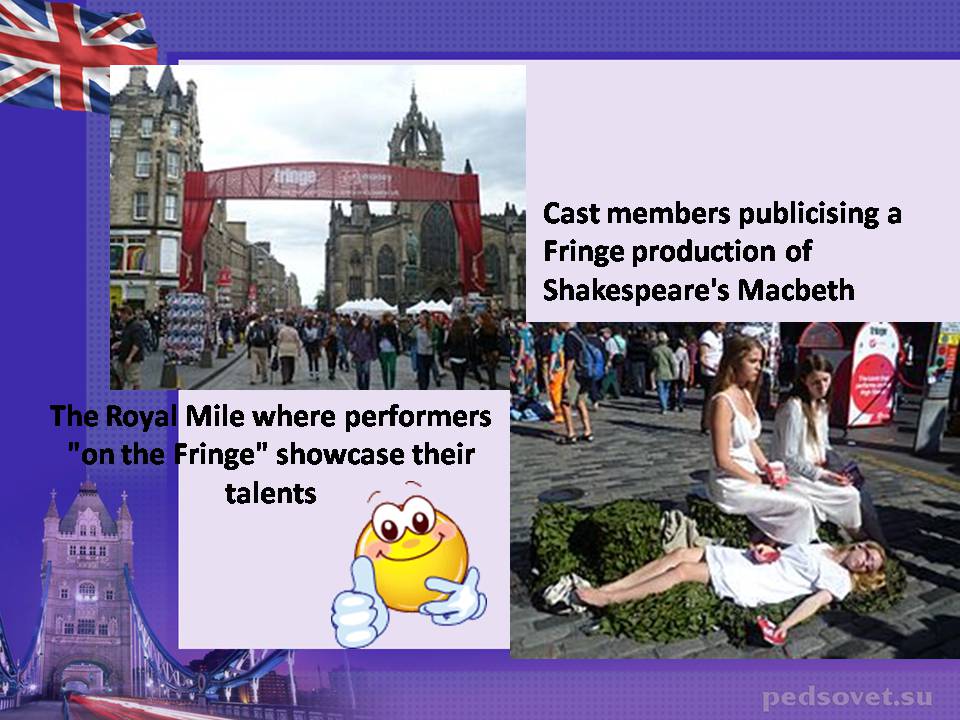 ---
Слайд #8
---
Edinburgh International Festival (founded 1947)* — The original and "official" festival consisting of classical and contemporary theatre, opera, music, dance, visual arts, talks and workshops.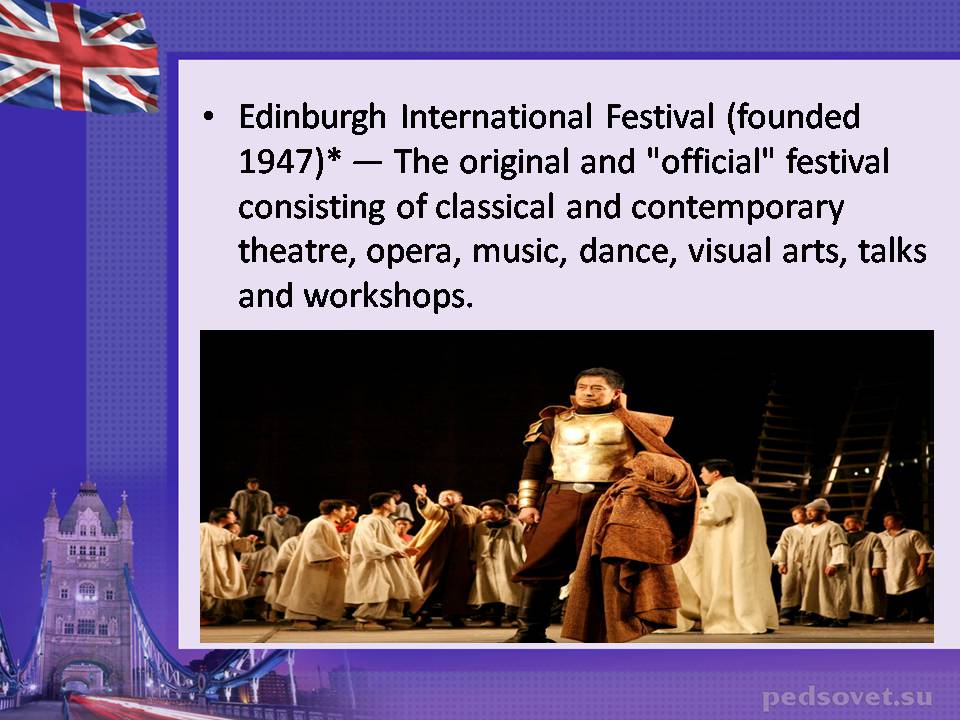 ---
Слайд #9
---
Edinburgh Festival Fringe (1947)* — now the largest of all the festivals and indeed the largest arts festival in the world. Includes theatre, comedy, music, musicals, dance and children's shows.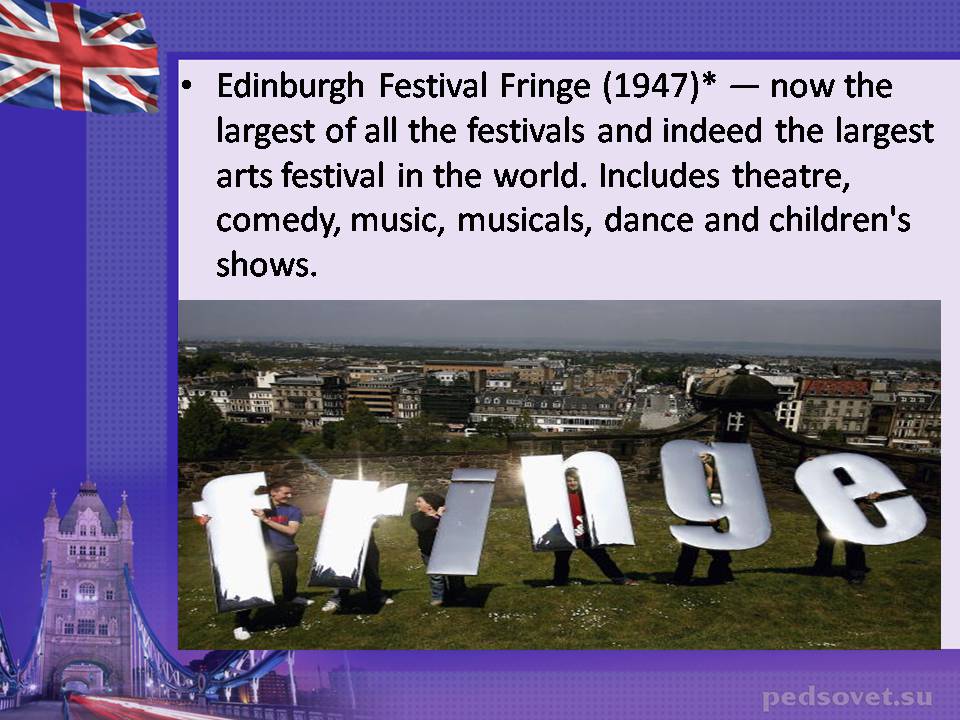 ---
Слайд #10
---
Execute pupils of 10-A Kuidan Julia and Ann Mihailyuk
Thank you!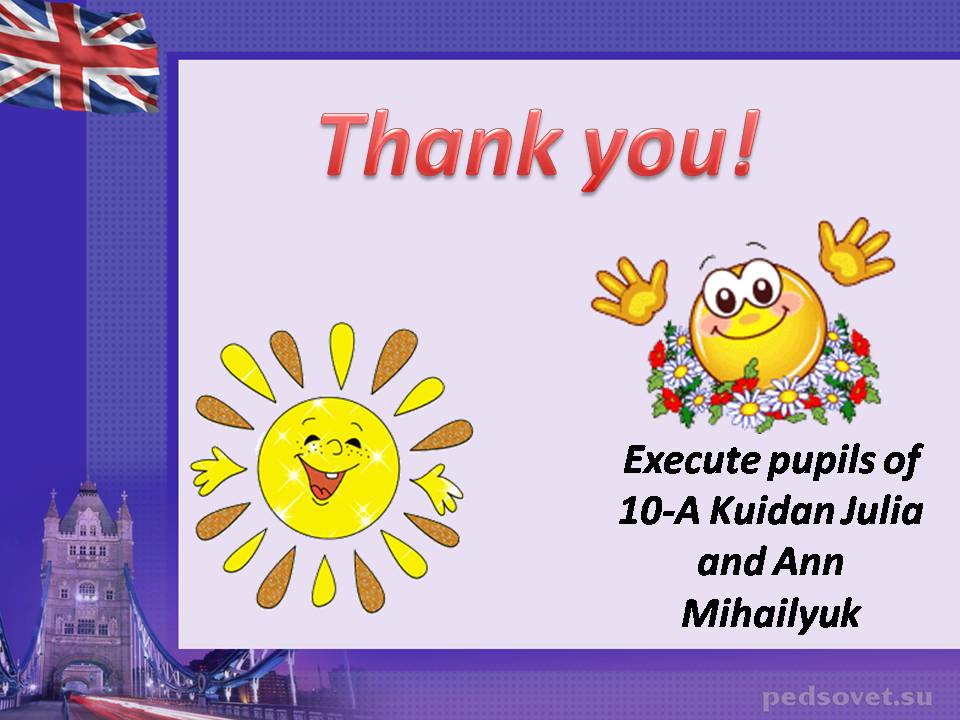 ---
---